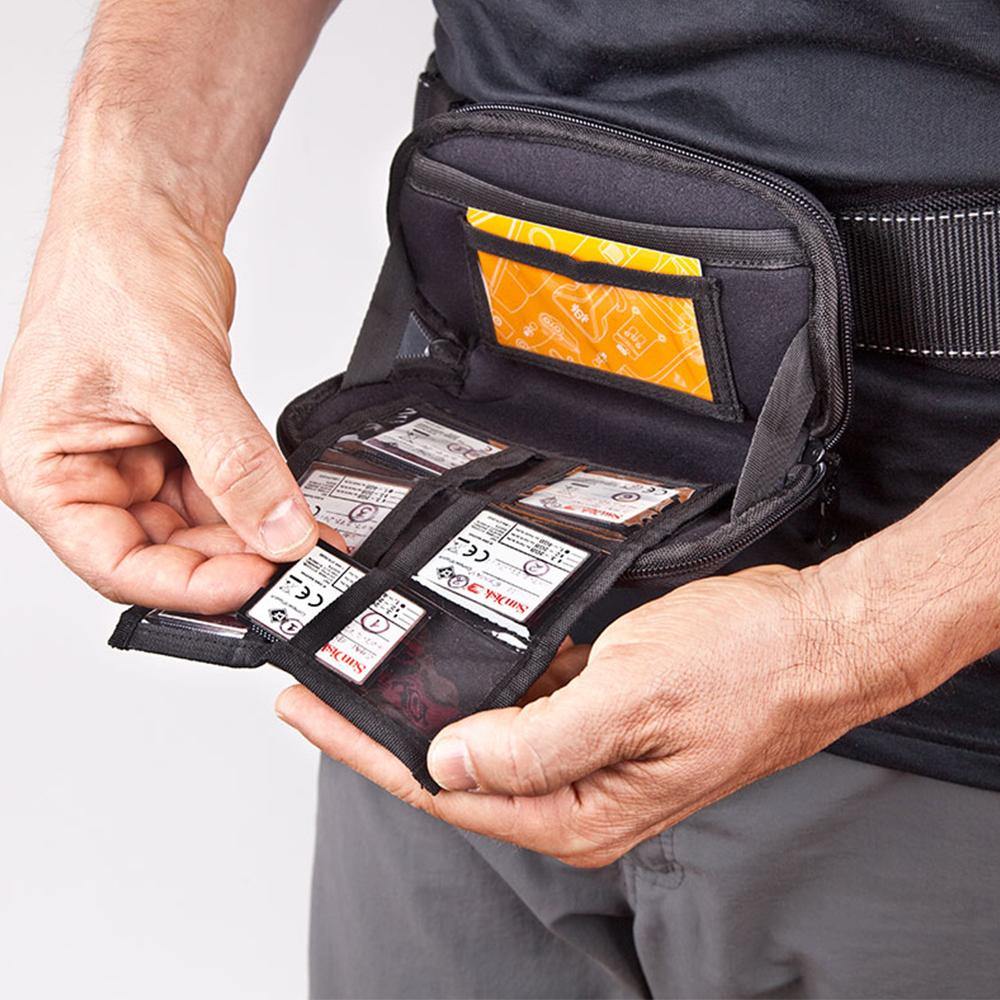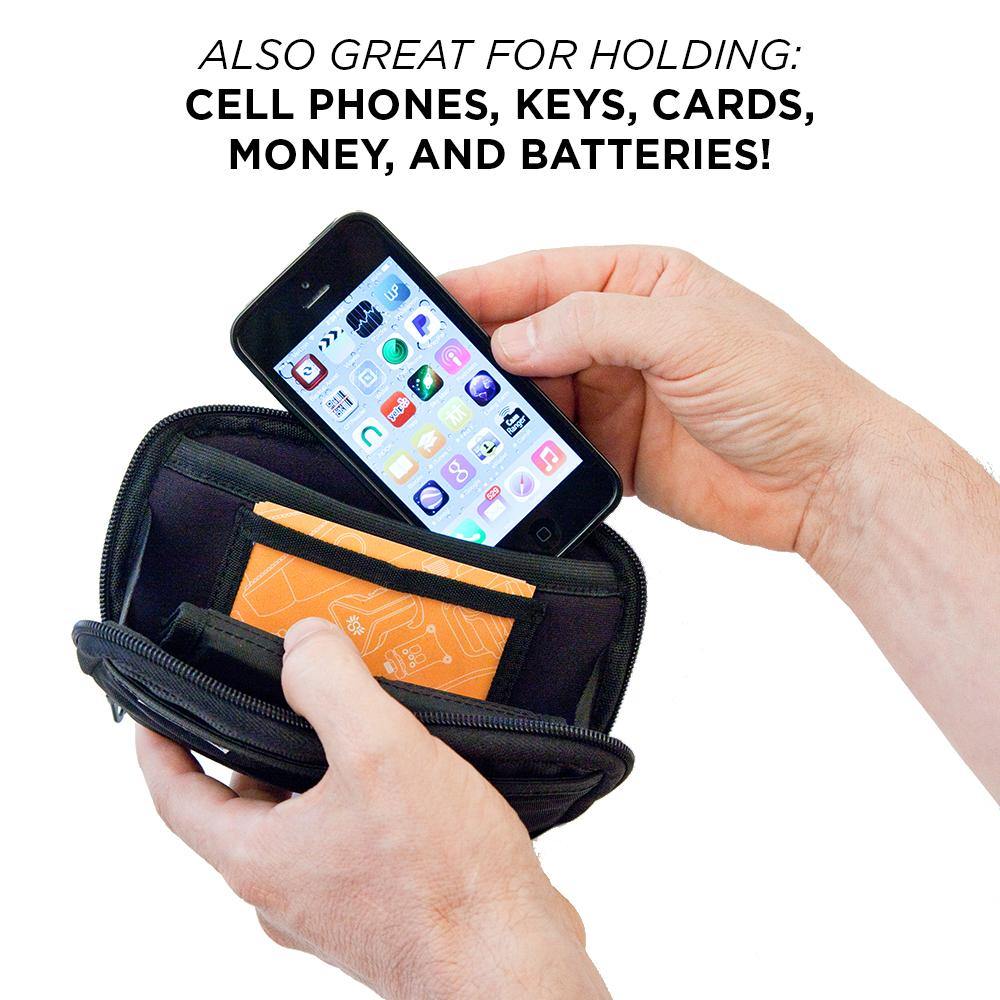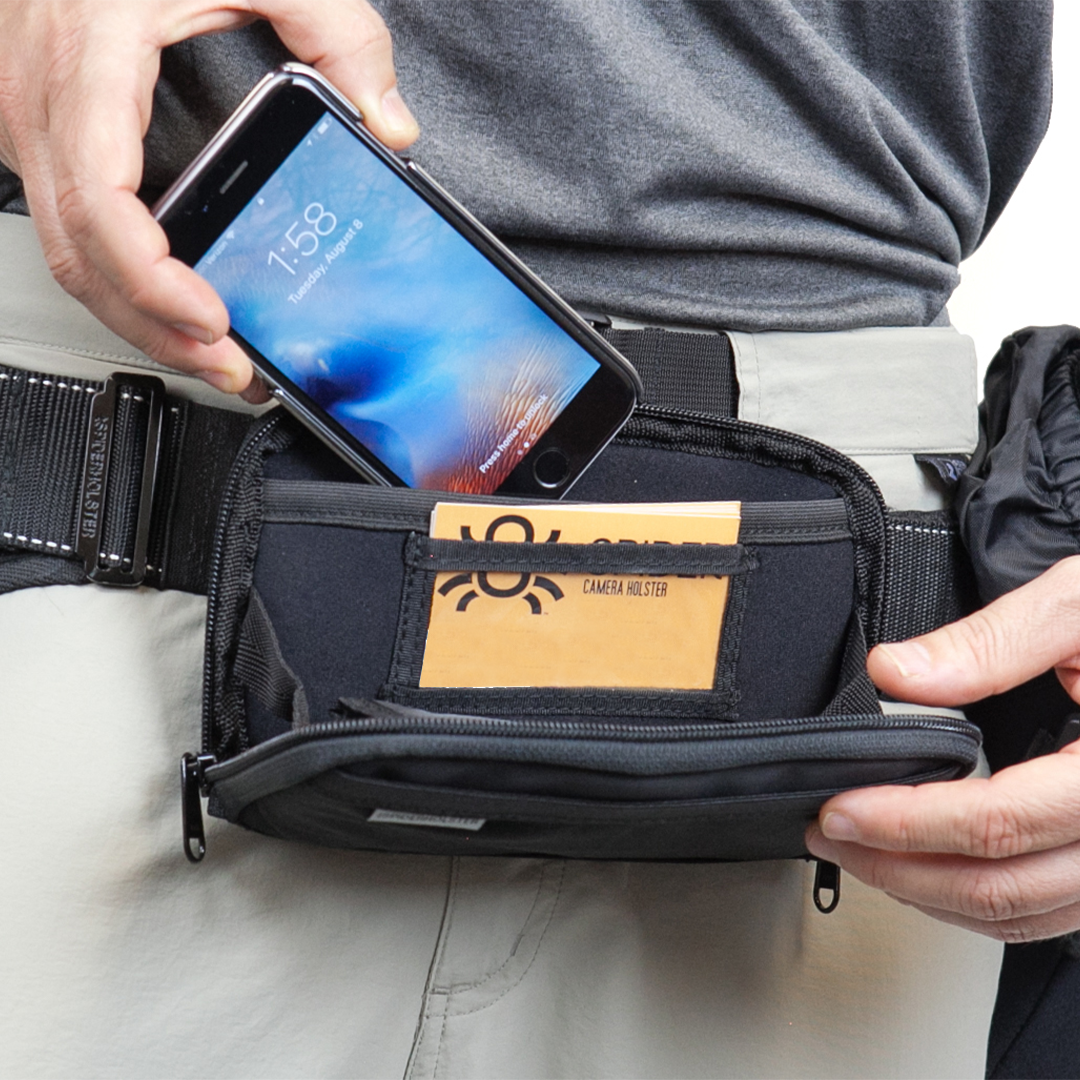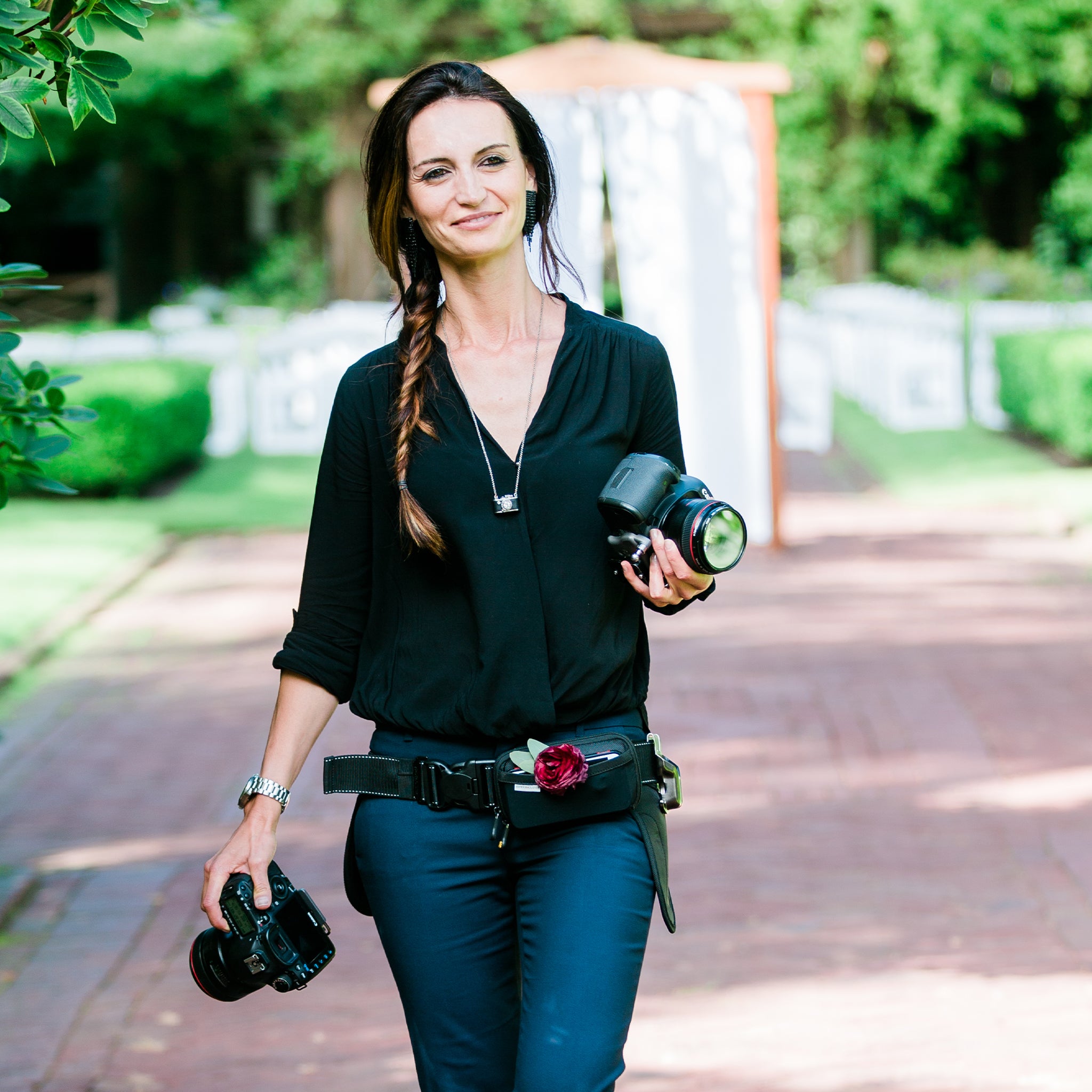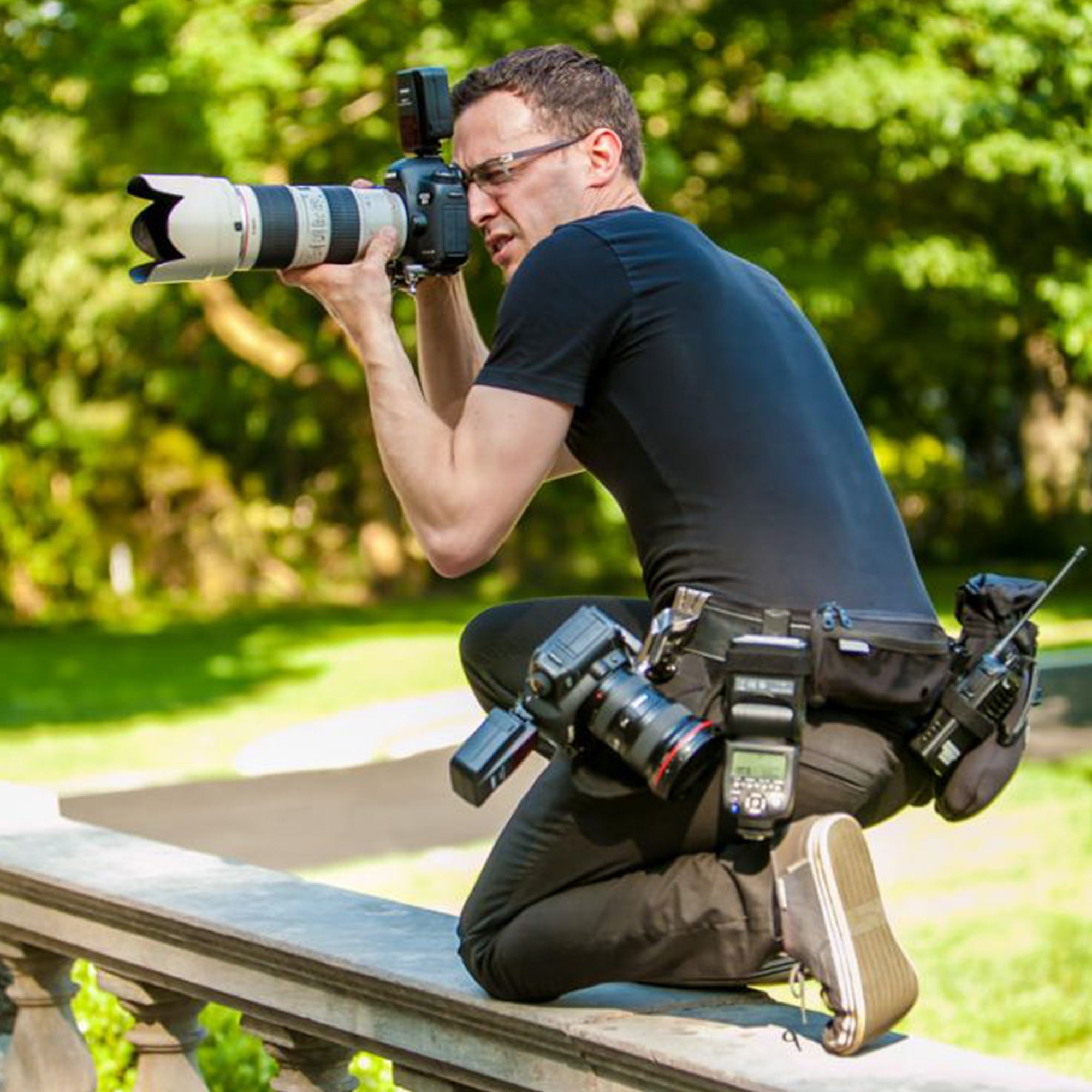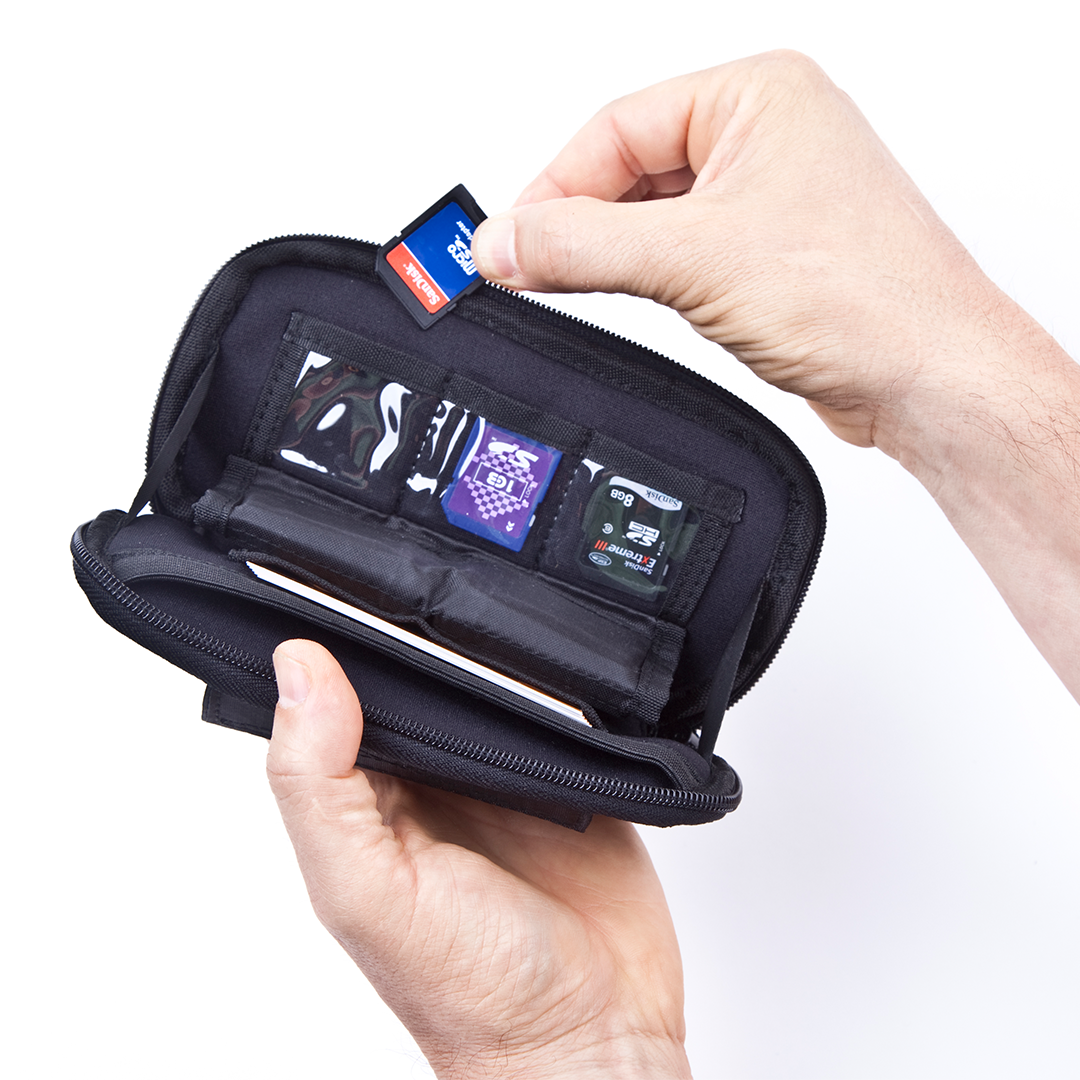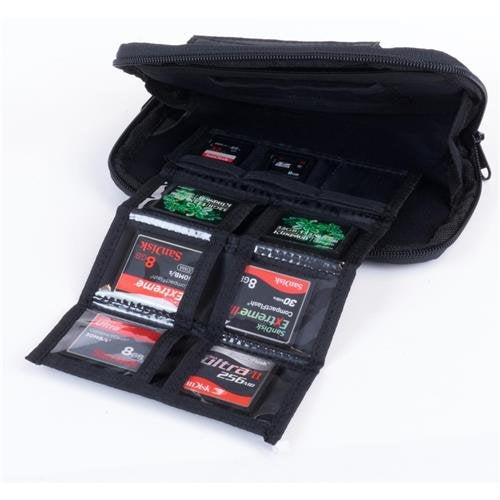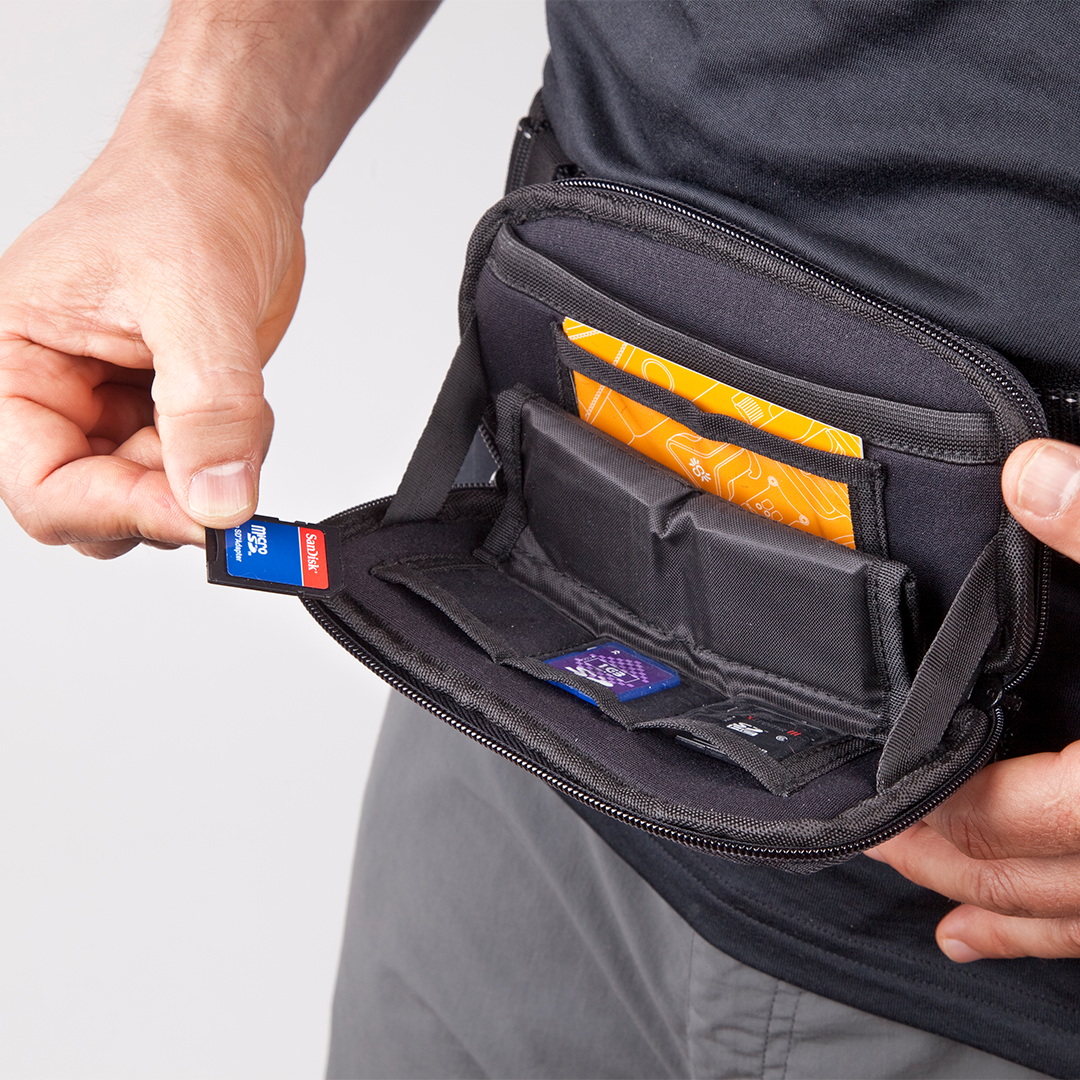 Memory Card Organizer v2
---
The Spider Memory Card Organizer is designed to make swapping your memory cards on the job quick and easy -- while also giving you space for your phone, credit cards + money, lens cap, spare batteries, and more!

This Spider pouch easily installs onto any belt by simply running your belt through the elastic section on the back. We highly recommend adding this onto your SpiderPro Camera Belt System -- once you add it on, you'll never want to take it off!

The Memory Card Organizer has a built-in, foldable internal section that can hold up to six CF and three SD cards (or nine SD cards) for convenient swapping in & out on the job! This memory card section can be removed, it attaches to the inside of the pouch with high strength velcro. 

The outside front of the pouch has an elastic pocket that provides extra convenient storage for your keys, lens cap, money, etc. 

The inside of the pouch has another large pocket, along with a built-in slot with see through panel for your business cards.

The outside and inside pockets are both large enough to fit most modern cell phones.

The pouch features two high quality zippers. When you unzip & open the pouch, it will stop at a 90 degree angle similar to a shelf. This "shelf" design will give you a sturdier surface to shuffle through the contents of your pouch and swap out your cards.



✅ DUAL ZIPPER DESIGN: Secures your valuables such as a cell phone, keys, spare change, and more!
✅ CONVENIENT POCKETS: Features a stretchable elastic front pocket and internal stretchable pocket, both capable of holding a large cell phone!
✅ EASY TO ATTACH: Loop your belt through the back of the pouch and you're good to go!
✅ REMOVABLE CARD HOLDER INSERT: Internal card holder attaches to the pouch with strong velcro and holds up to 3CF / 6SD Cards.
✅ BUSINESS CARD POCKET: Internal pocket designed for storing credit cards, business cards, and more!
✅ INSTALLS ONTO ANY BELT: Insert your belt through the back of this product.
✅ INCLUDES: 1 Memory Card Organizer v2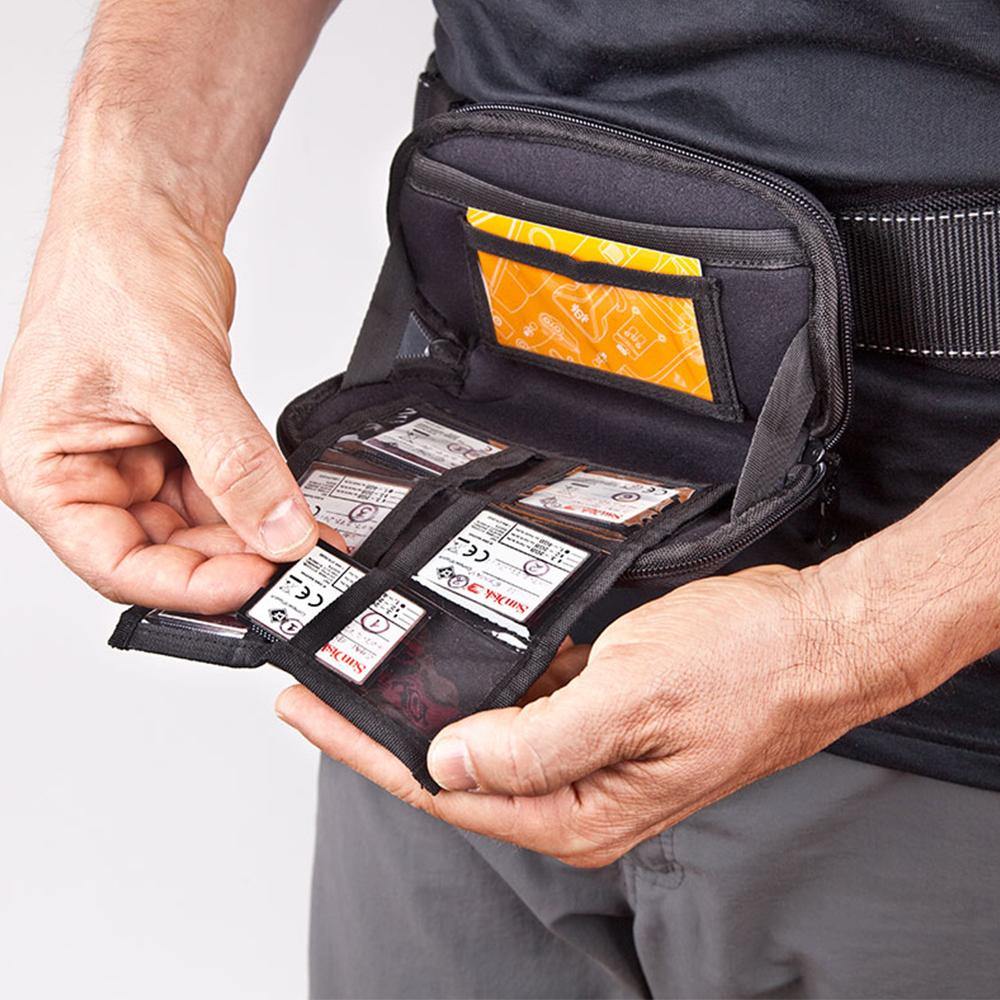 This product is rated 4.7 of 5.0 stars.
It has received 18 reviews.
Larger than v1
I was surprised at how much larger this memory card pouch is compared to the original version. It has a harder shell so it feels like my cards are more significantly protected in bad weather which is good. I do not like how the cf card attachement is removable. It folds very awkwardly inside as it only attaches via Velcro in one spot, behind the sd card slots. I have less room to buckle my belt now because it is that much larger than before. So it's an okay product, but I think the original was much better.
Great product
I always worried about losing one of my memory cards before. It helps to not only keep them organized and safe, but the zippered pouch is just the right size to carry my wallet and a few lens wipes. Thank you!
The more the better
You can never get enough storage space for your cards, thus here the more the better. But storage is overstated if it's hard to gain access to that which you store and here we have the perfect solution…ease of accessing that which you store. And with bonus of belt attached and that extra pocket for a phone. What more can be said. Merry Christmas to one and all and the best in the New Year.
Fits my phone and ID perfectly
Very useful addition to have these things close to me during the photo session
Put these handy accessories on your belt, or your Spider belt!
BELT ADD-ONS
Self-locking clip for carrying a flash, light meter, battery pack & more!
SELF-LOCKING ACCESSORY CLIP KIT
View Product
Store up to 6 SD / CF cards + your phone, business cards, keys, and more!
Memory Card Pouch