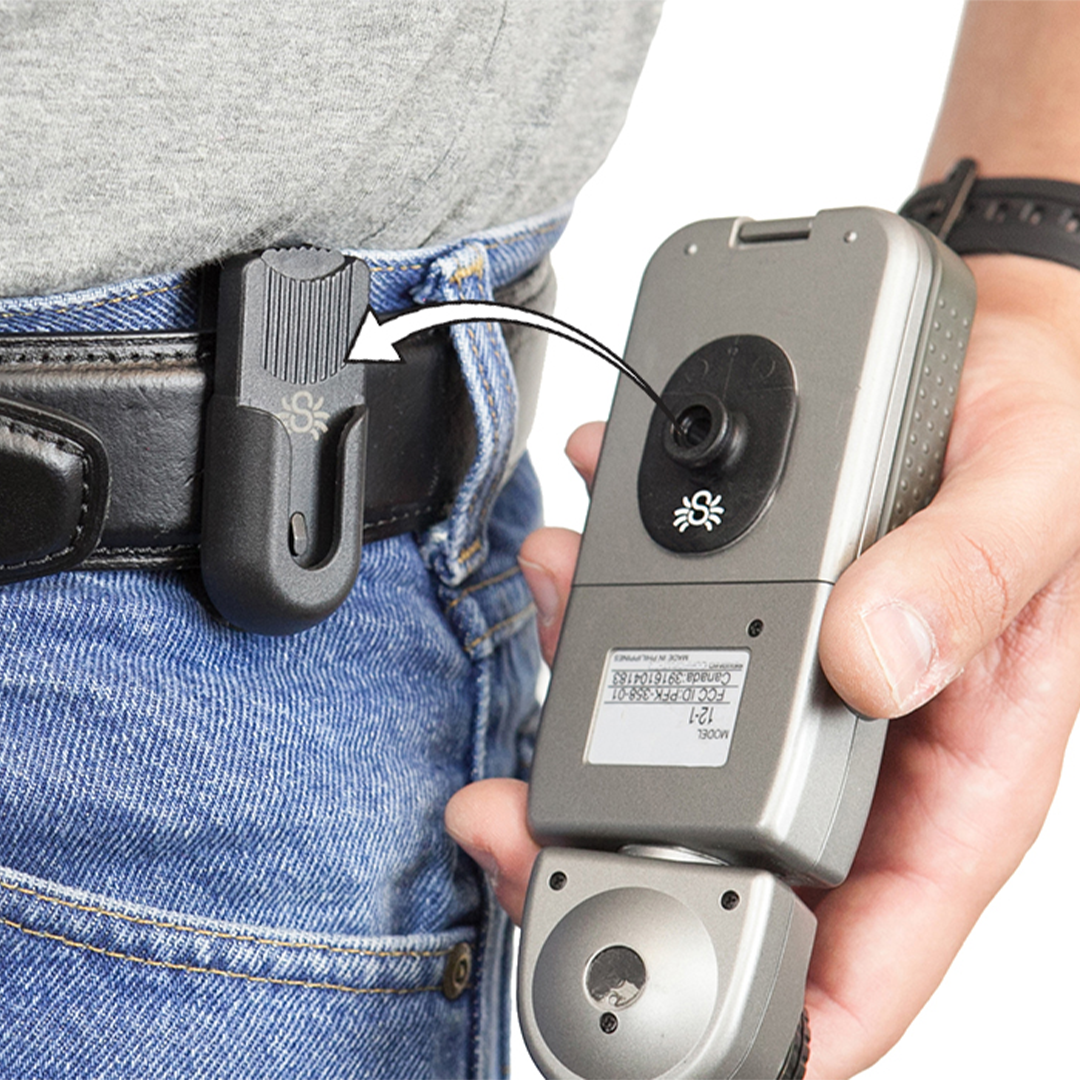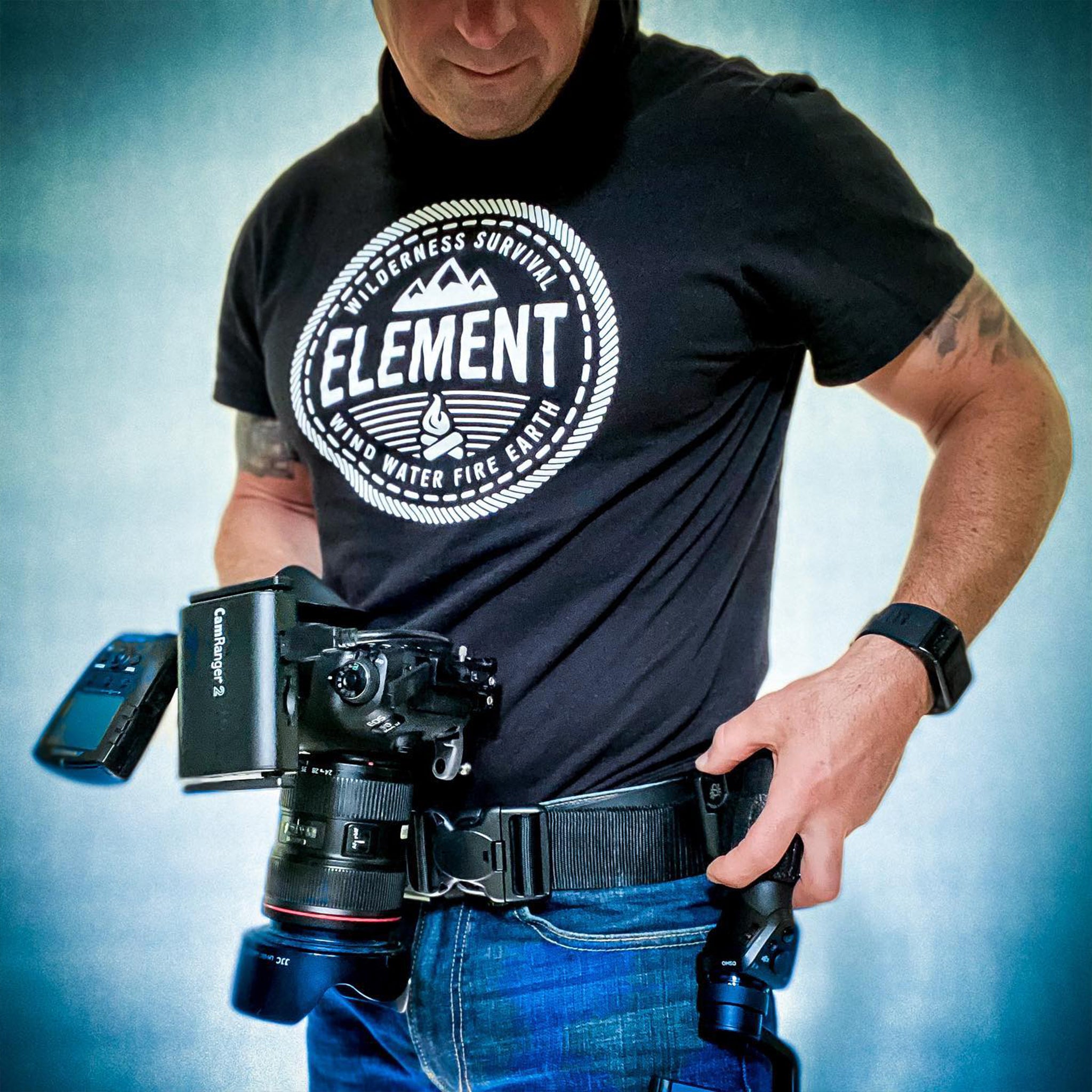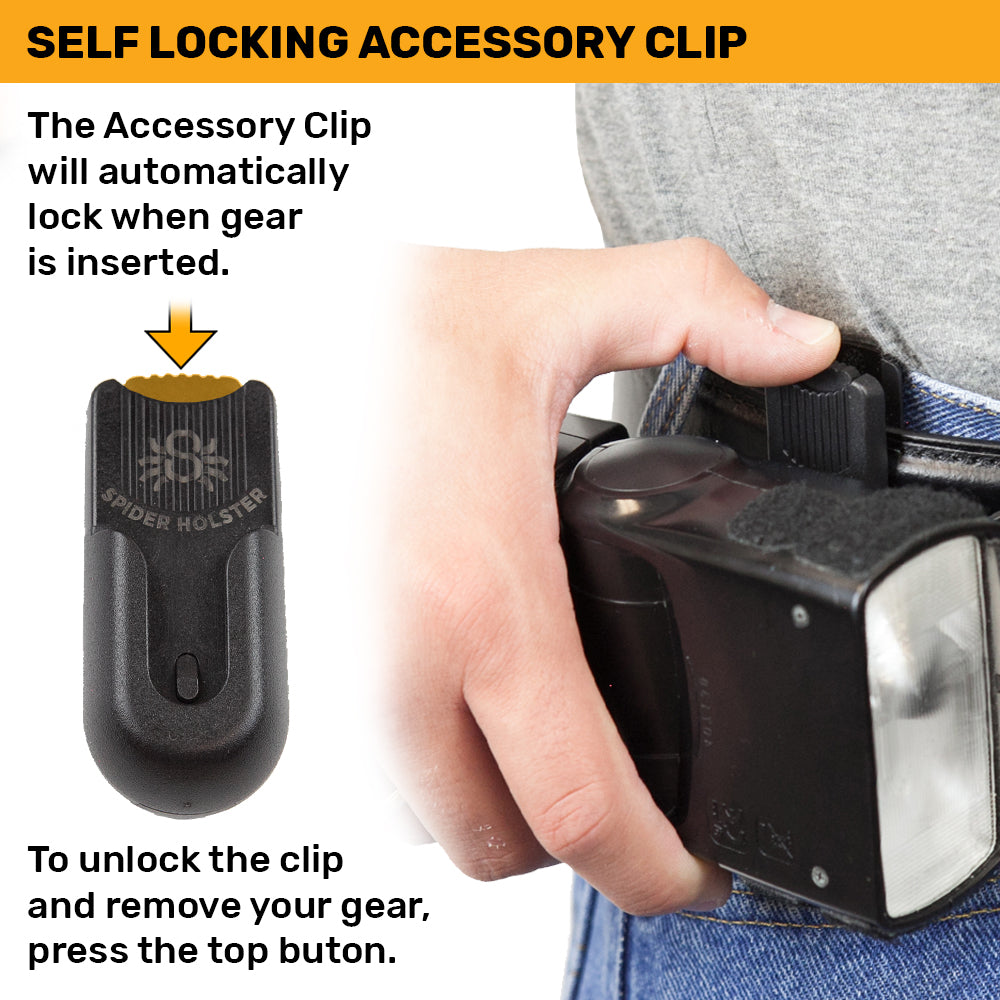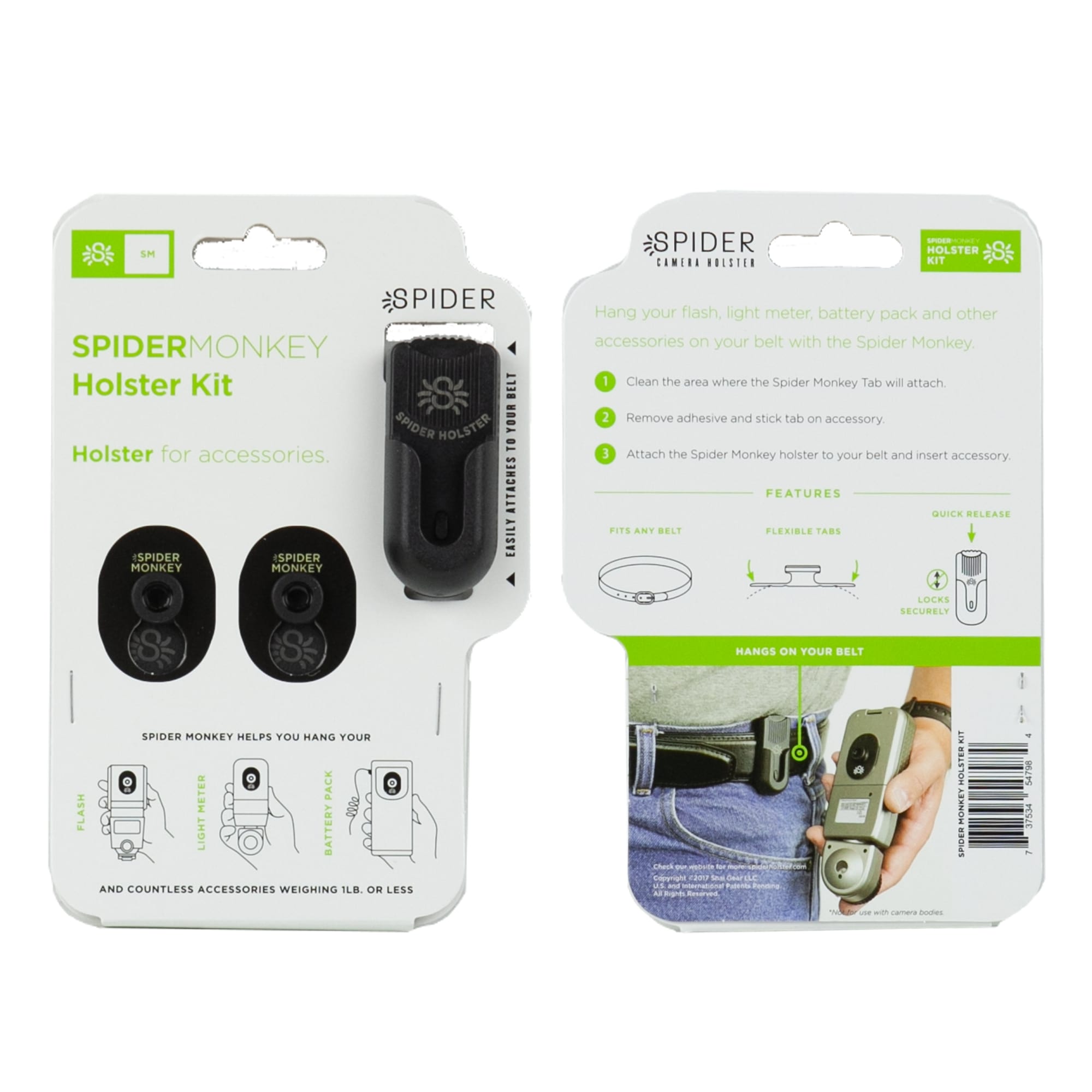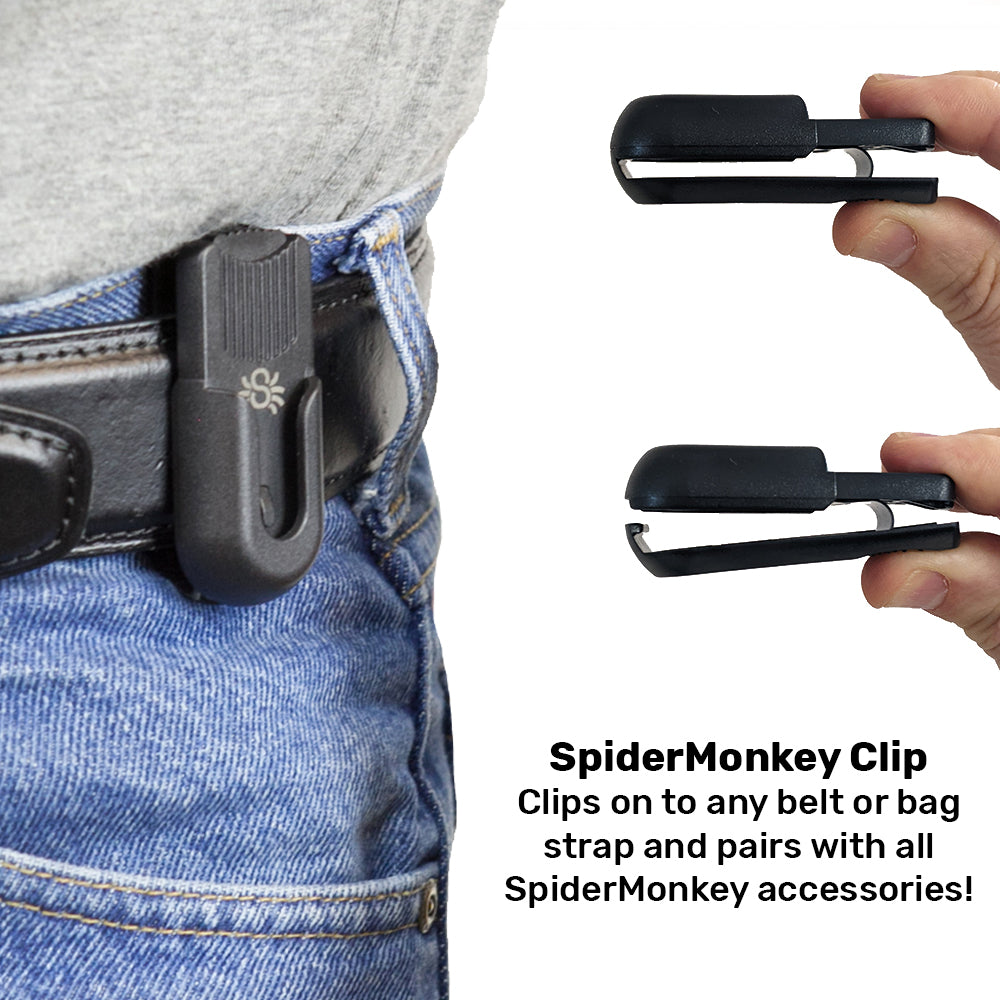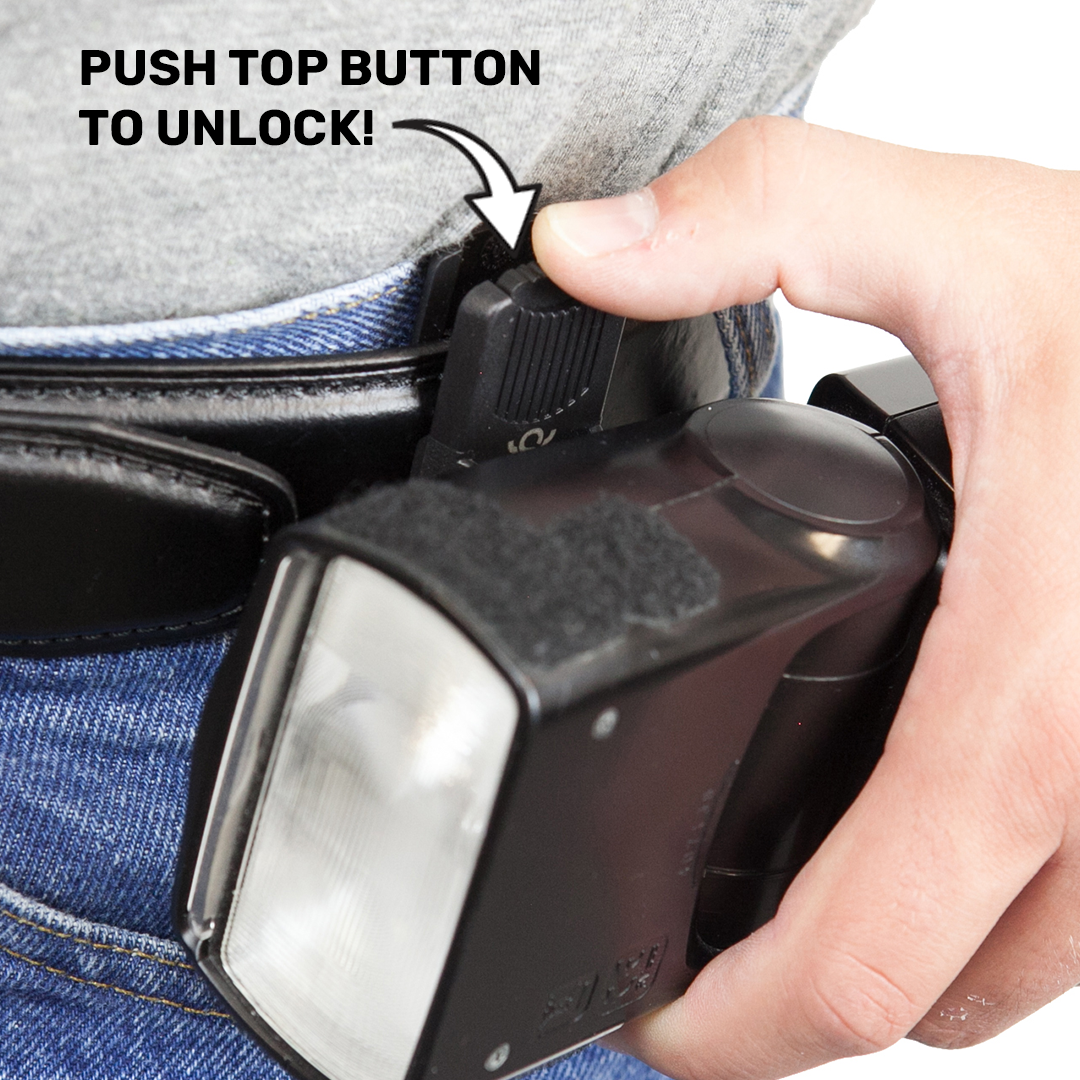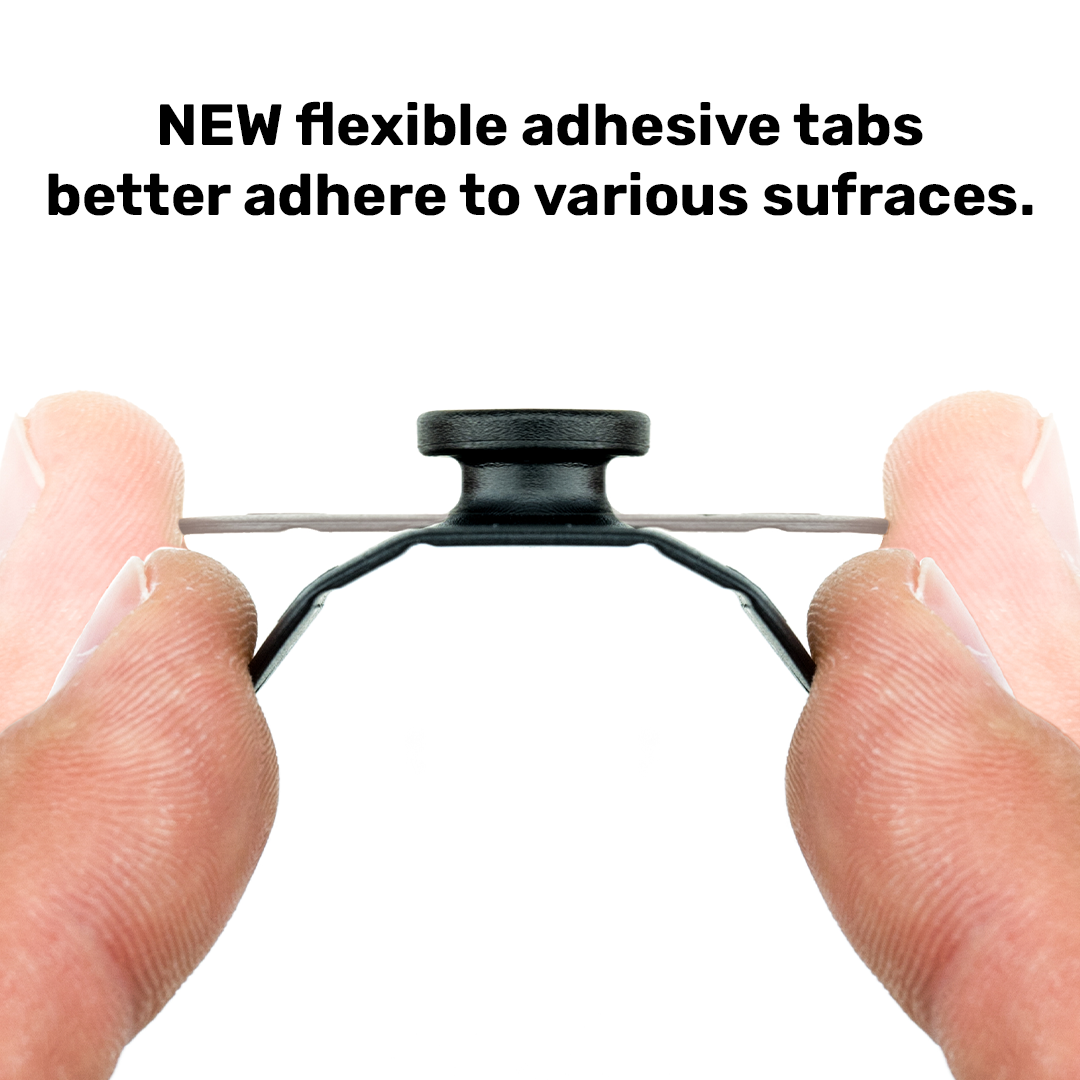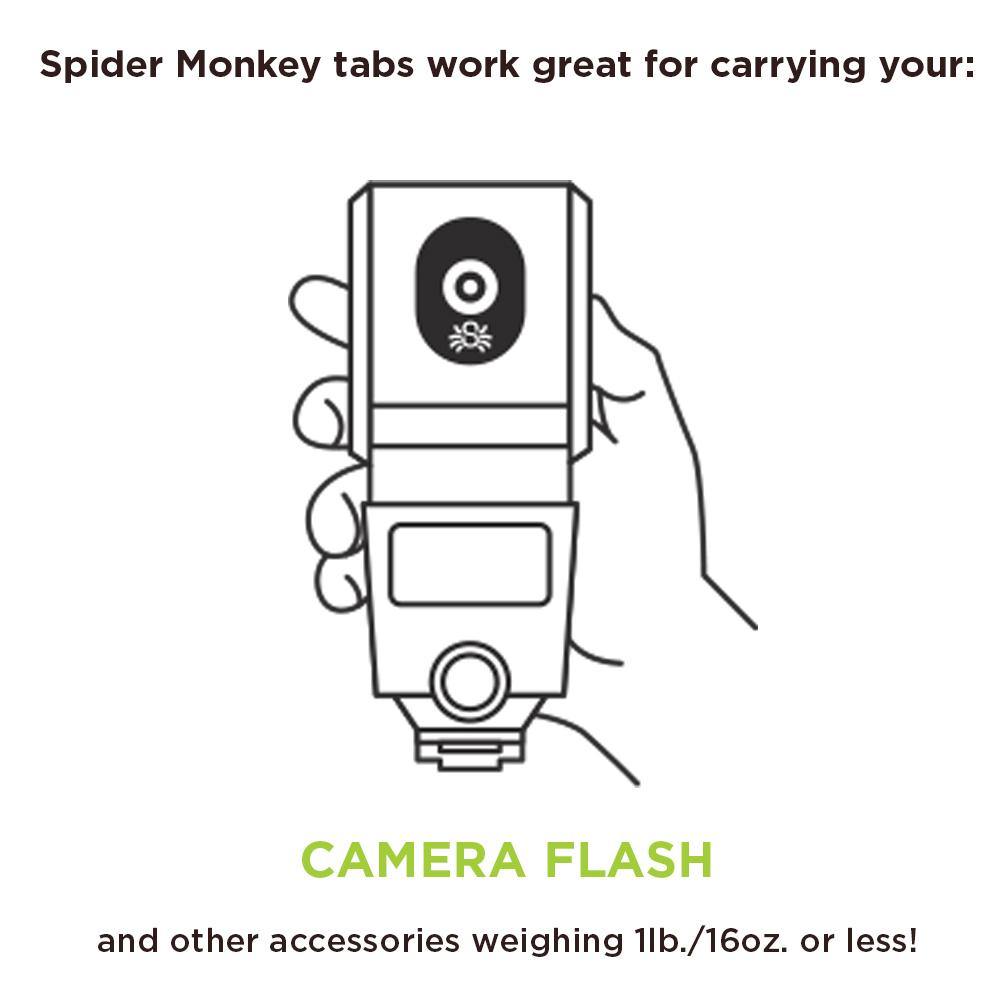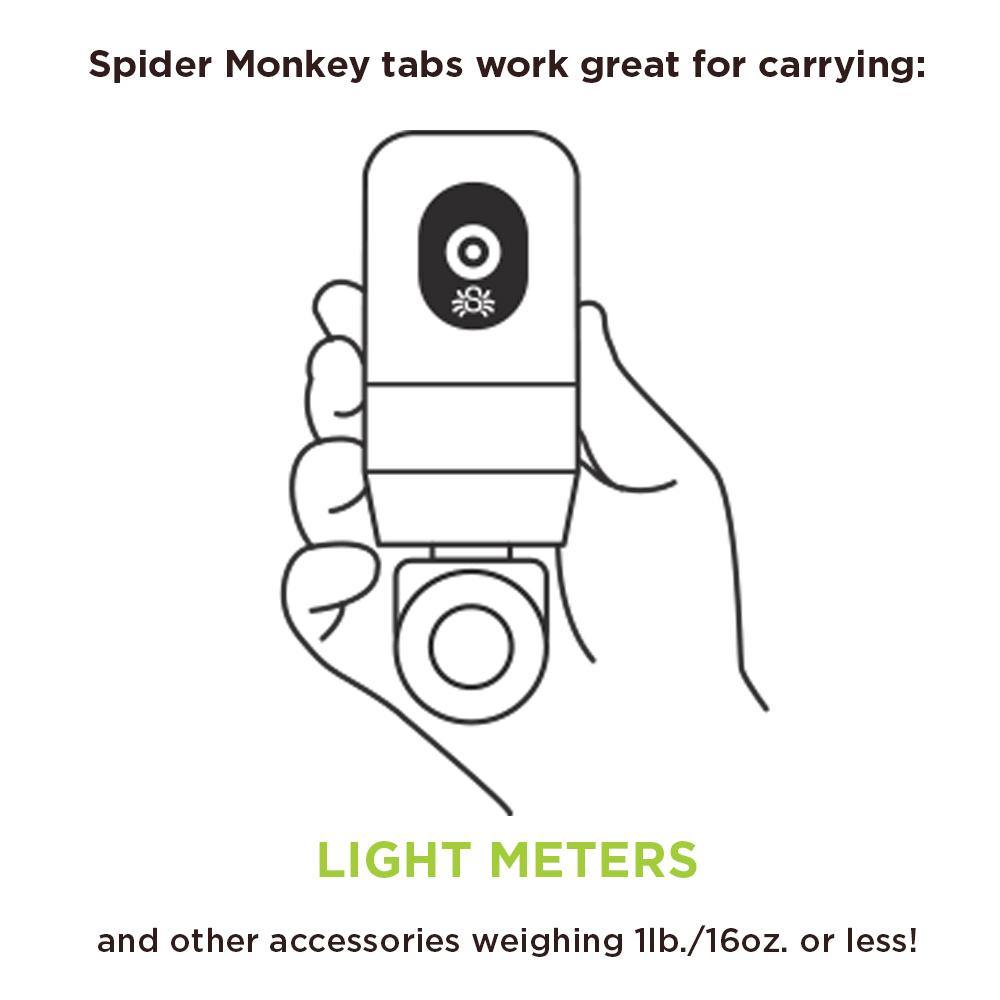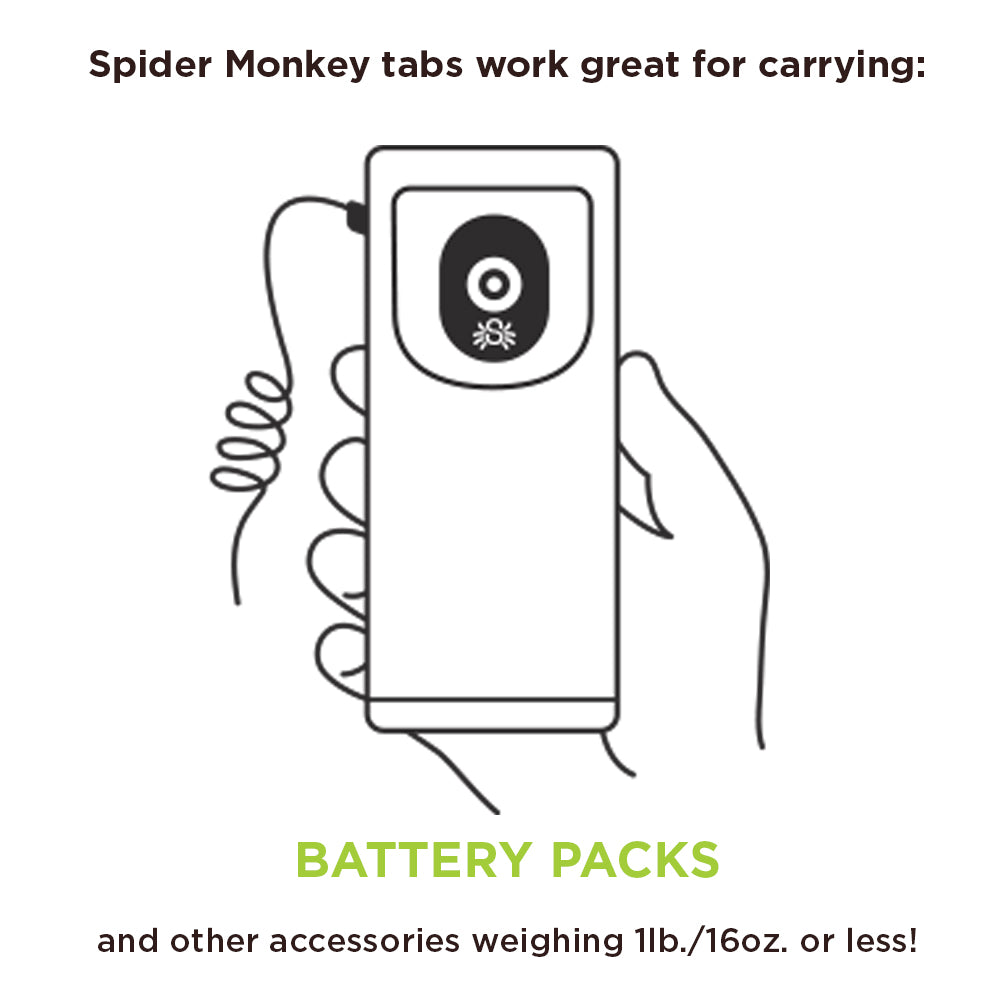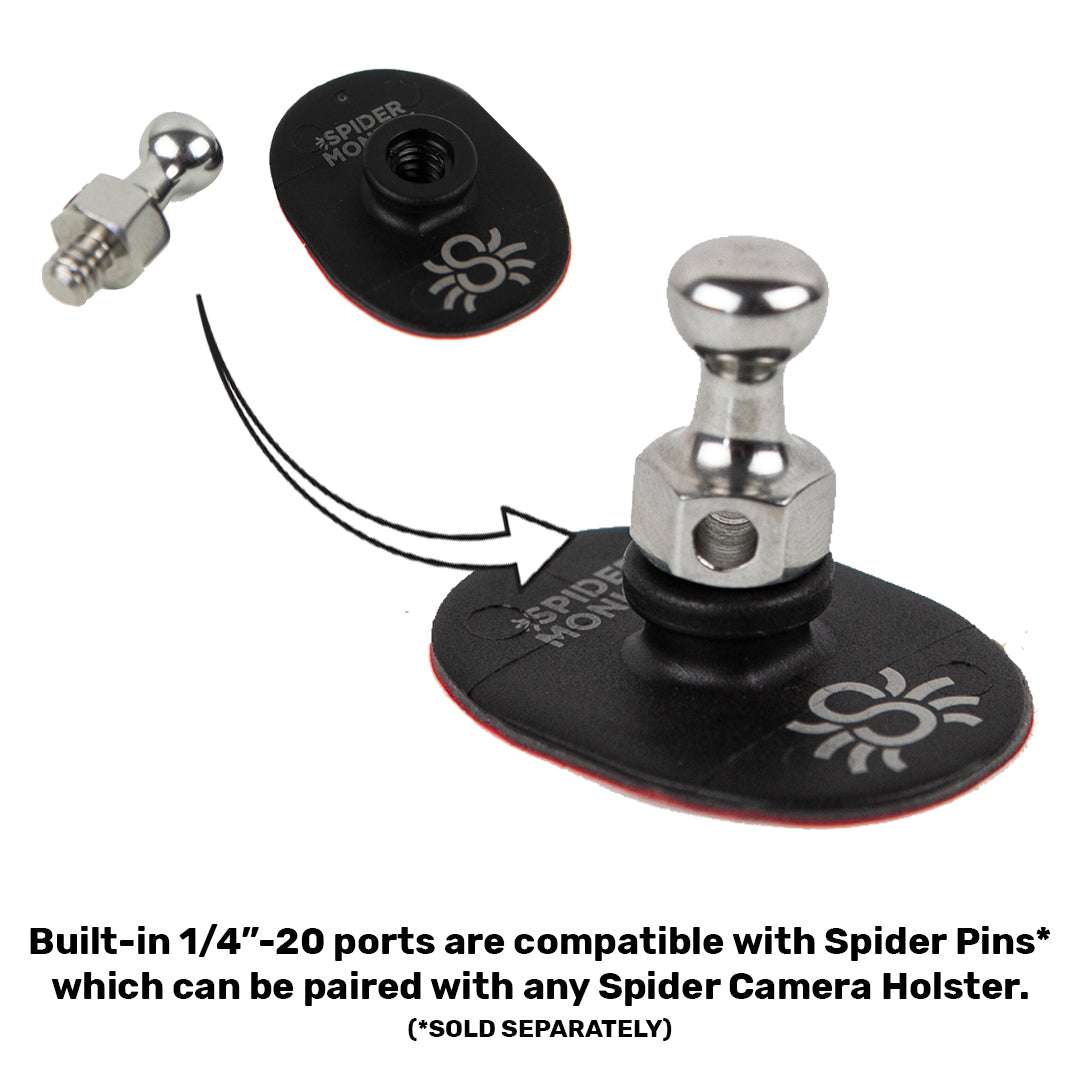 SpiderMonkey Accessory Clip Set
---
SpiderMonkey Accessory Clip Set
 SKU: 900
Description: 
The SpiderMonkey Kit is a two-piece system that can hold a flash, light meter, battery pack, or other lightweight accessory on your hip. This system provides a quick-draw method of retrieving gear, eliminating the need to hunt through your bag for an item. Multiple SpiderMonkey base clips and tabs (sold separately) can be used to have multiple accessories within arm's reach.

Adhesive Tabs v2
The SpiderMonkey Adhesive Tabs (2 included) attach to any lightweight accessory with a flat surface using a high-strength 3M adhesive.

SpiderMonkey Tabs v2 are built from a durable nylon composite, and while durable, are also flexible and can be attached to slightly rounded surfaces.
The circular feature on these tabs pairs with our SpiderMonkey Base Clip, as well as our Studio Assistants* (*sold separately*) This circular feature also has a built-in 1/4"-20 mount hole, this allows it to pair with one of our Spider Pin v1 or BlackWidow Pin.


SpiderMonkey Base Clip
The reinforced polymer Spider Monkey Base attaches to any belt (up to 2 inch height), including the Spider belts, Lowepro's Street & Field, and Think Tank's Steroid and Skin belts. After a SpiderMonkey Tab has been locked in, to release the tab and accessory, press the button on top of the base clip and accessory up and out.
PRODUCT HIGHLIGHTS:
INCLUDES:
(1) SpiderMonkey Base Clip
(2) SpiderMonkey Adhesive Accessory Tabs
IMPORTANT:
>> This product is designed to hold light weight camera accessories up to 1lb / 16oz. This is product is not designed for carrying your camera.
>> For best results when applying a SpiderMonkey Adhesive Tab, press and hold when applying for 60 seconds, and then allow 24 hours for the adhesive to cure.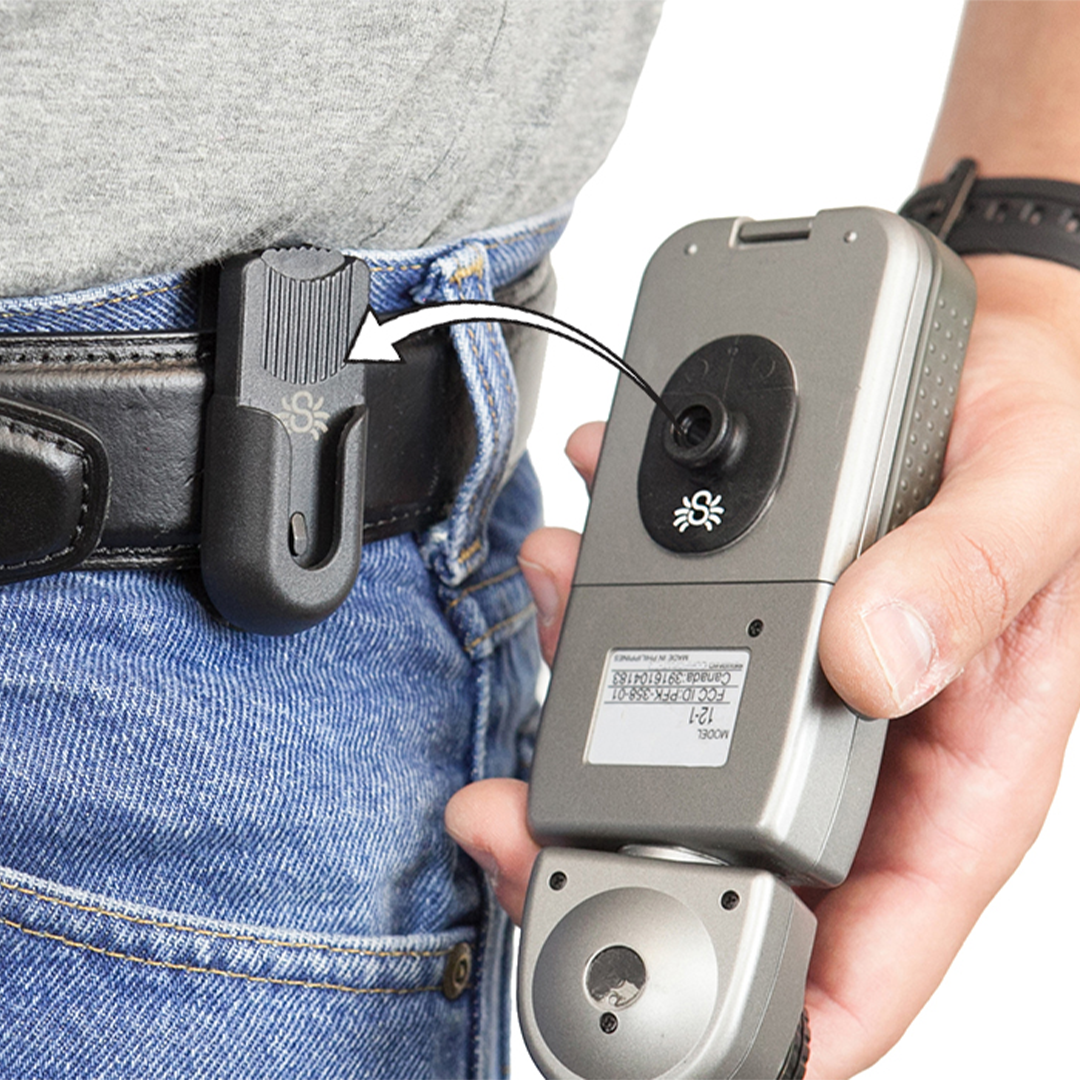 This product is rated 4.9 of 5.0 stars.
It has received 53 reviews.
Great product!
Keep expanding your excellent product line for a lot of us determined photographers.
Belt clips
Between my Fanny pack and my dual spider belt system I just needed two more accessories and the clip on set did the trick!
Awesome Water bottle holder
Works very well and the fabric seems to add a bit of insulation.
A true timesaver, but replace it once a year ;-)
I use Spider Monkey carry an additional flash for off-site, interior shoots. It gets used A LOT (hundreds of times each day)! In fact I use it so much that the plastic clamping feature has now worn out and needs to be replaced after one year. My only reason for giving this 4 stars is because I wish it were made out of some sort of metal alloy that wouldn't wear out as quickly. Other than that I love this product! It's well worth the money!
24 days and it hasn't arrived yet....
I'll rate it 5 stars based on a hunch lol. I keep getting bugged to make a review but it hasn't arrived yet but then it is coming to Canada 🇨🇦 so I'm hoping it gets here soon, damn it🤪
Put these handy accessories on your belt, or your Spider belt!
BELT ADD-ONS
Self-locking clip for carrying a flash, light meter, battery pack & more!
SELF-LOCKING ACCESSORY CLIP KIT
View Product
Store up to 6 SD / CF cards + your phone, business cards, keys, and more!
Memory Card Pouch