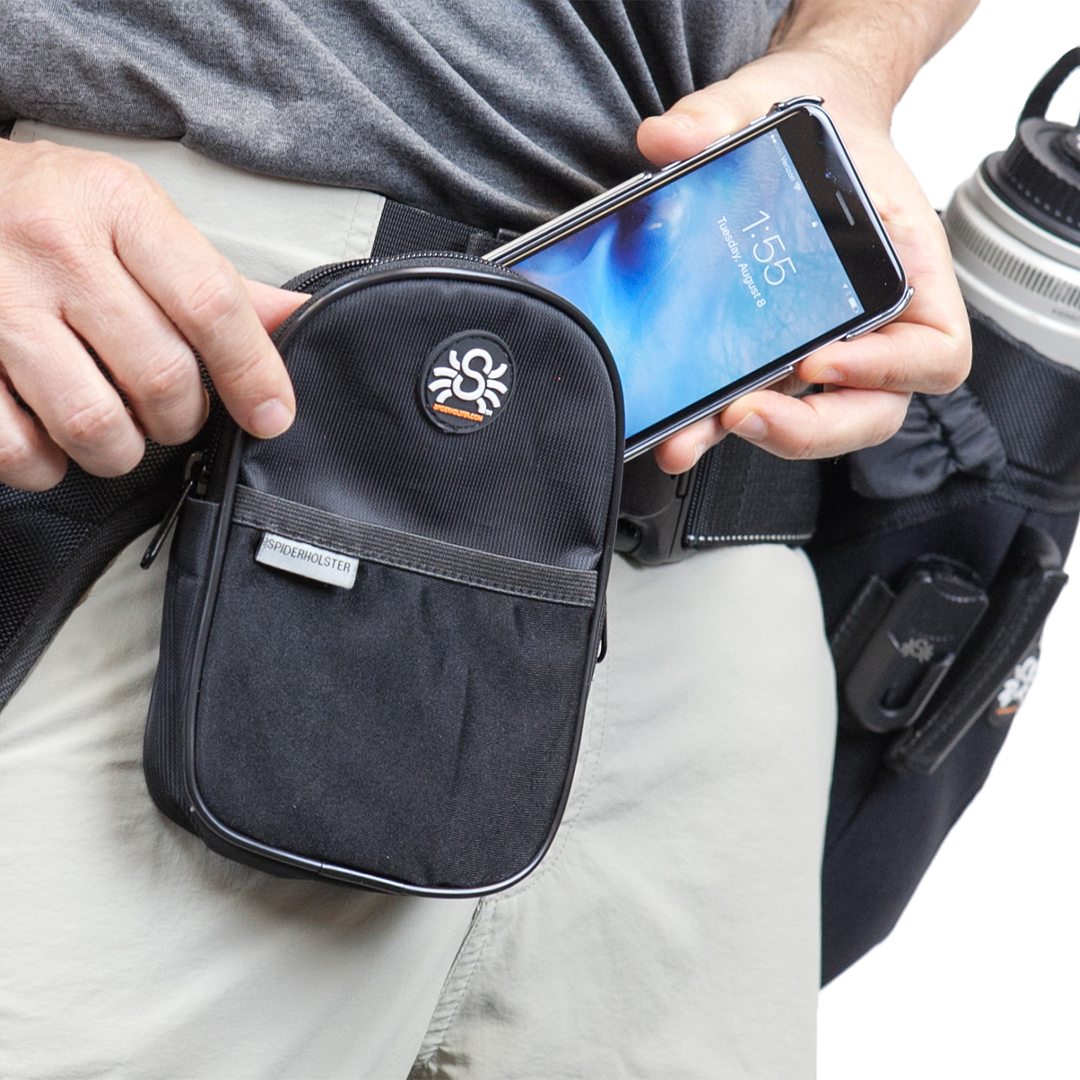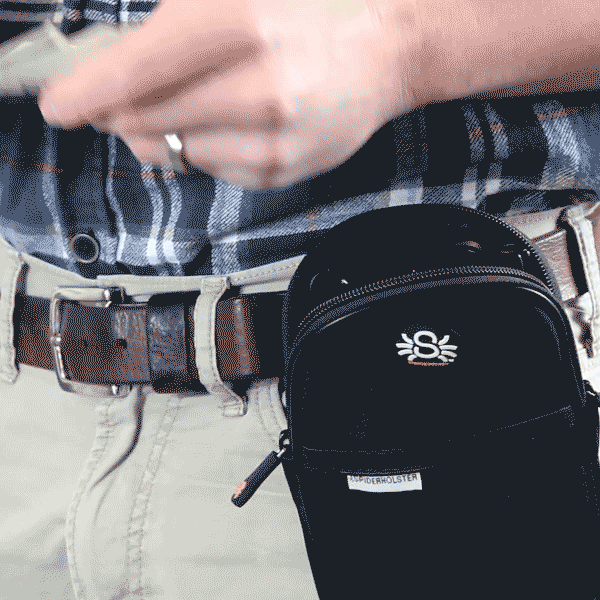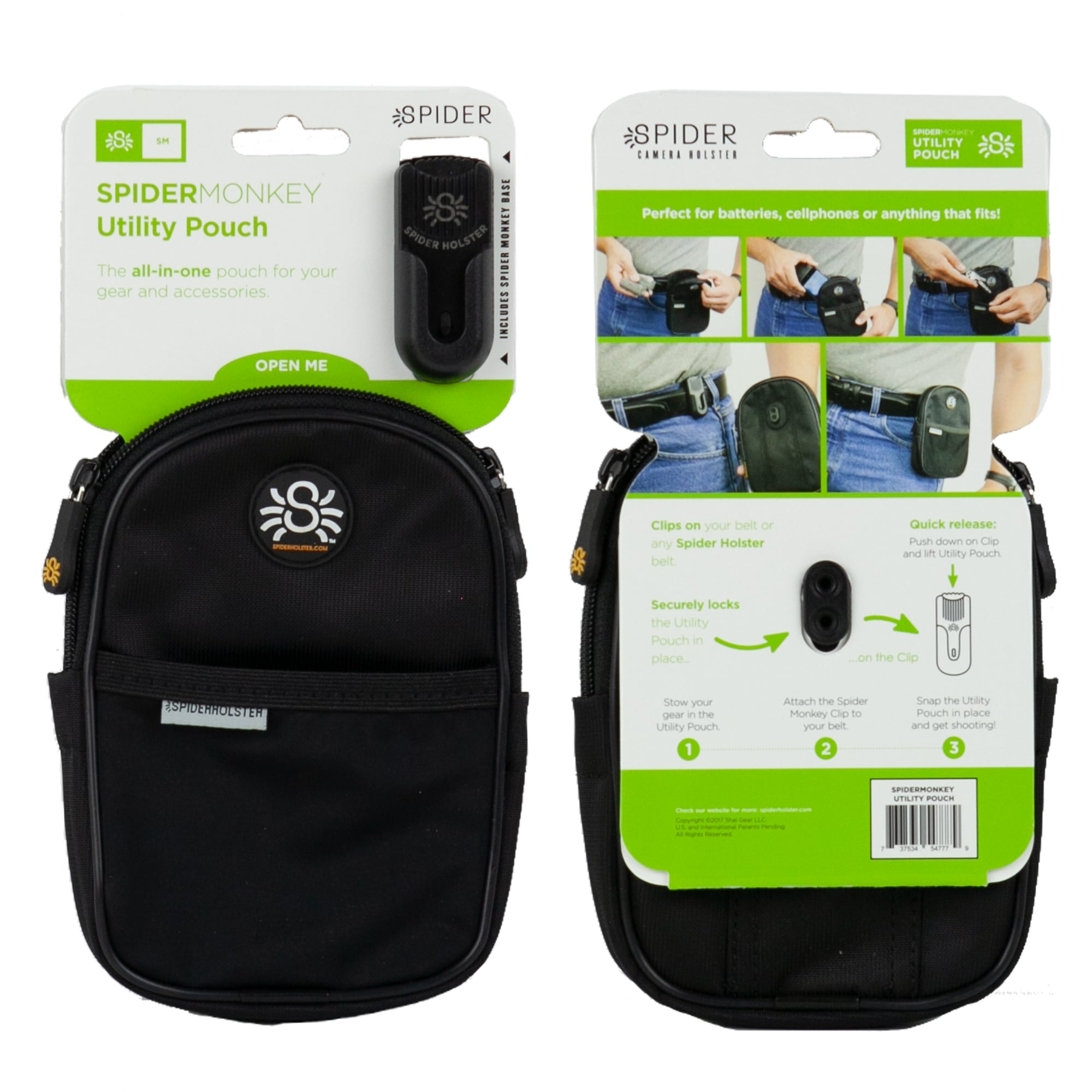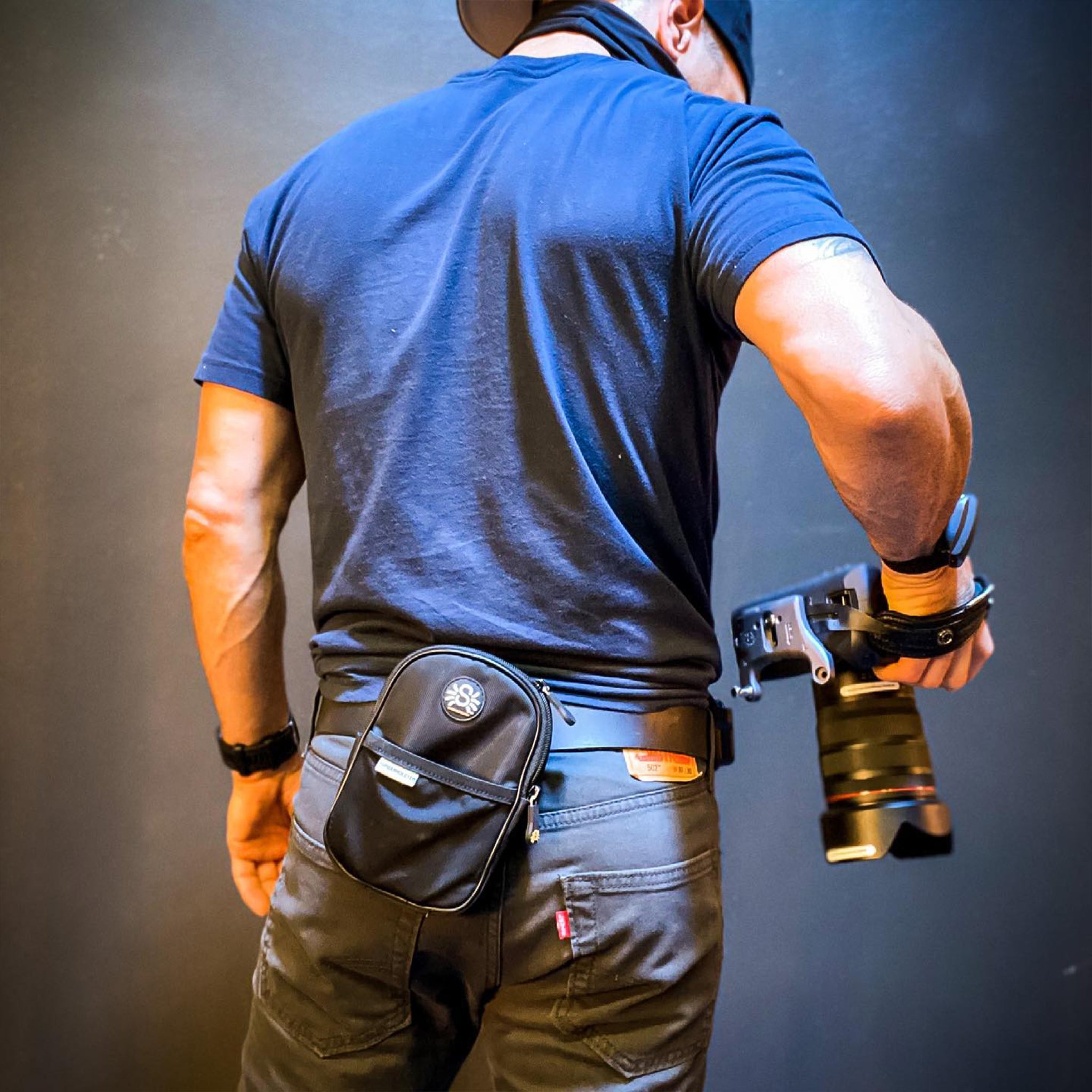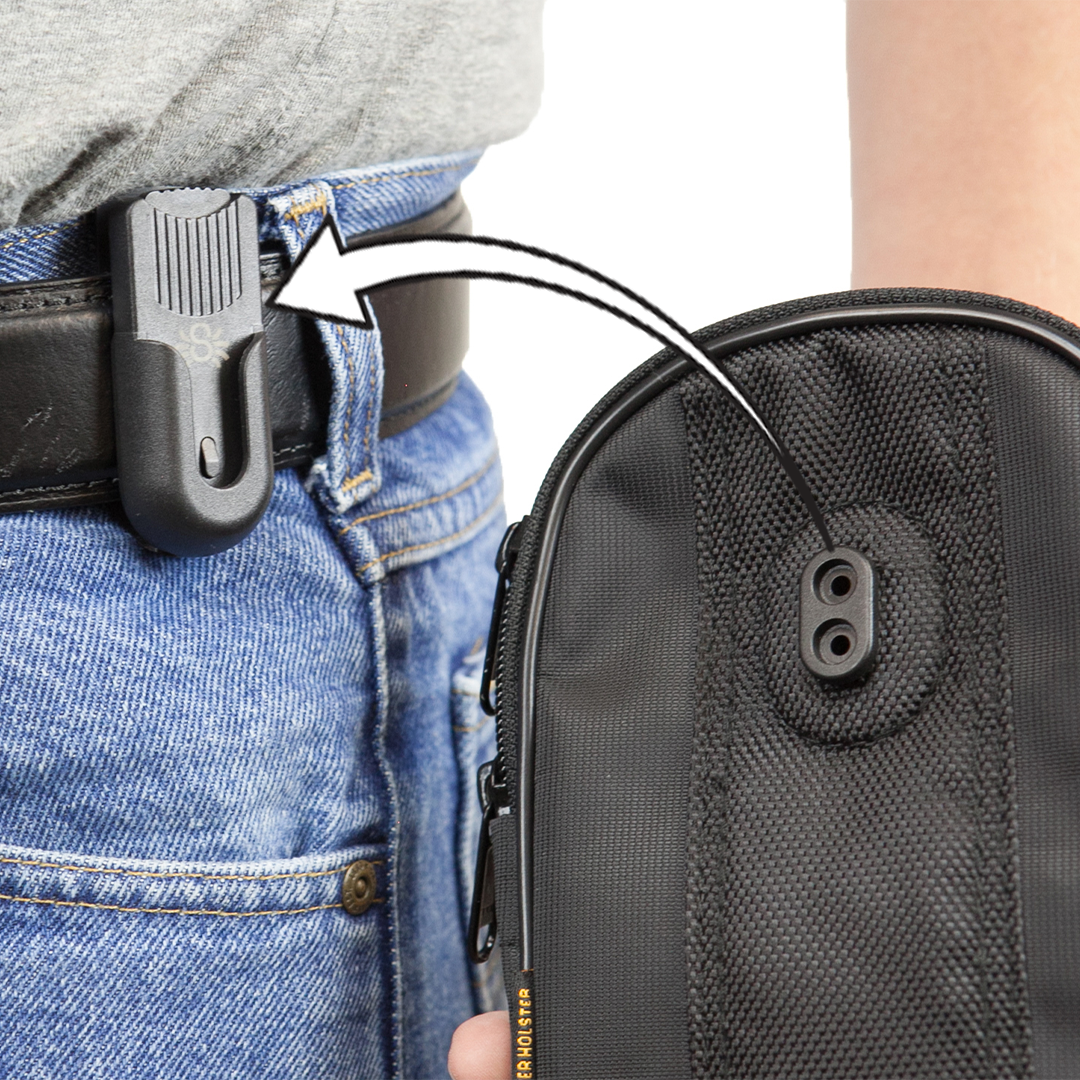 Spider Utility Pouch
---
Spider Accessory Base Clip
The reinforced polymer Spider Accessory Base Clip attaches to any belt (up to 2 inch height), pocket, or backpack strap and lets you quickly swap out your gear with the press of a button. 

The base clip will automatically lock whenever a Spider Adhesive Accessory Tab or other accessory has been inserted. To release the tab and accessory, press the button on top of the base clip and pull the accessory out.

The Spider Accessory Base Clip pairs with all other SpiderMonkey Accessories.

Utility Pouch
The first of its kind, the SpiderMonkey Utility Pouch is the quick-release carrying solution for accessories, extra batteries, phones, lens caps, etc. 

The Utility Pouch is designed with dual zippers for easy access and has two internal compartments: one for your phone and one for your cash, keys, batteries, memory cards, etc. 

Externally, the Utility Pouch has an elastic pouch for small items such as lens caps.

The exterior of the pouch is made from durable nylon shell while the soft interior is designed to protect your phone and/or accessories. 

Pairs with the Spider Accessory Base Clip and Spider Studio Assistant

✅ UTILITY POUCH: Multiple pockets for holding your wallet, glasses, keys, memory cards, money and more!
✅ CLIP TO ANY BELT: Attach the Spider Accessory Clip to any belt, bag strap or pocket.

✅ SELF LOCKING BELT CLIP DESIGN: The SpiderMonkey clip will self lock every time you insert your Spider equipped gear.
✅ QUICK-DRAW YOUR GEAR: Press the button at the top of the SpiderMonkey base clip to unlock and grab your gear!
 ✅ DUAL ZIPPER DESIGN: Secures your valuables such as a cell phone, keys, spare change, and more!
✅ INCLUDES: 1 SpiderMonkey Utility Pouch, 1 SpiderMonkey Base Clip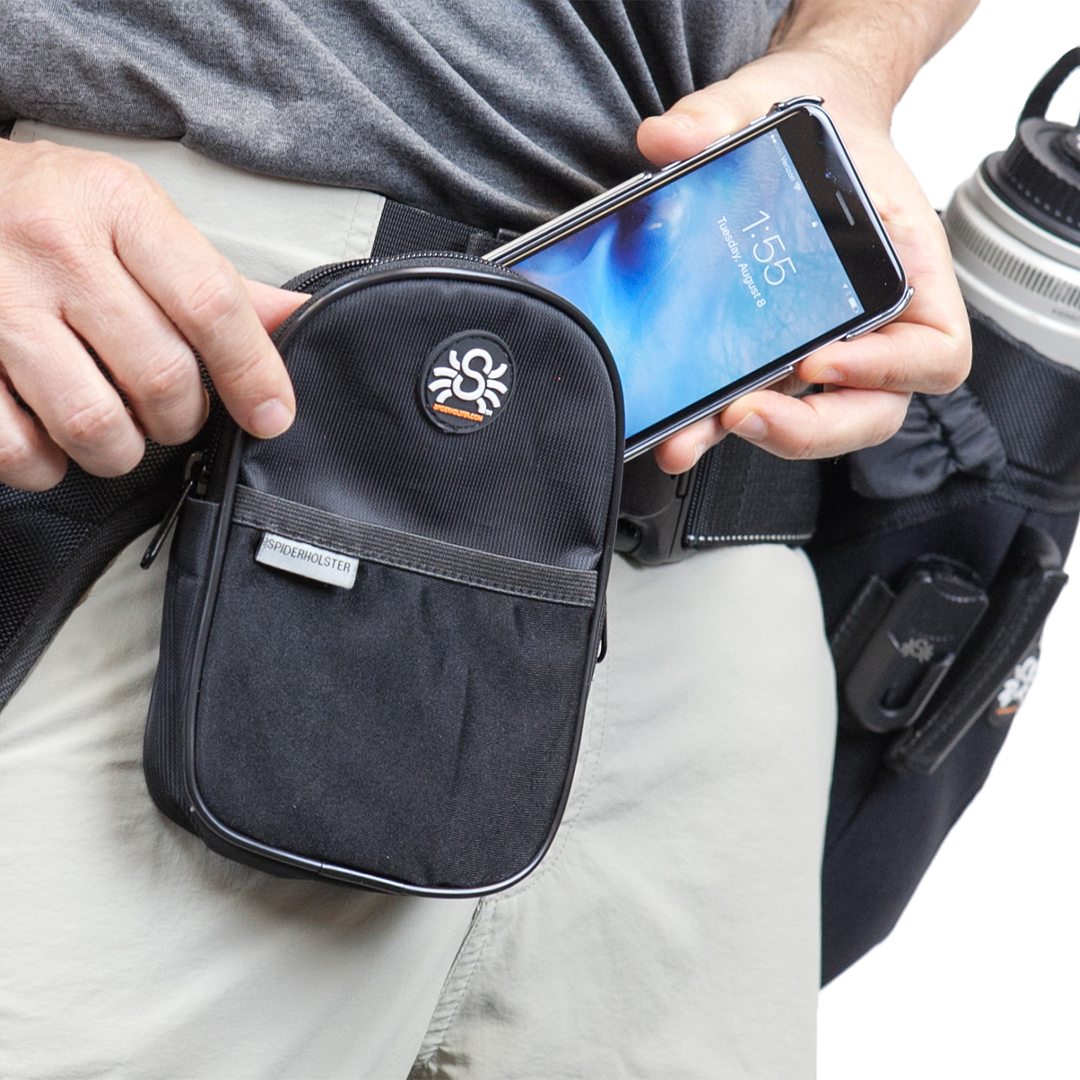 This product is rated 5.0 of 5.0 stars.
It has received 8 reviews.
Best way to carry pocket items
No more reaching in back pockets for phone, wallet, etc. Stores plenty
Nice Pouch
This pouch works perfect for my spare Canon EOS idX Mark III batteries
Spider holster
This is a life-changing accessory for me as a birder and passionate photographer. I've used all sorts of different shoulder strap devices to carry my Canon 5D Mark IV camera with a 100-400 telephoto lens in addition to my binoculars. The former shoulder devices added to my binocular weight and interfered with binoculars when I tried to take photos. The Spider holster allows for complete independence of my bins and my camera. All the weight of the camera has been transferred to my hips and is barely noticeable with this comfortable holster. The ease of use and independence is astounding.
Utility Pouch.
Excellent addition to the Spider Belt.
Put these handy accessories on your belt, or your Spider belt!
BELT ADD-ONS
Self-locking clip for carrying a flash, light meter, battery pack & more!
SELF-LOCKING ACCESSORY CLIP KIT
View Product
Store up to 6 SD / CF cards + your phone, business cards, keys, and more!
Memory Card Pouch