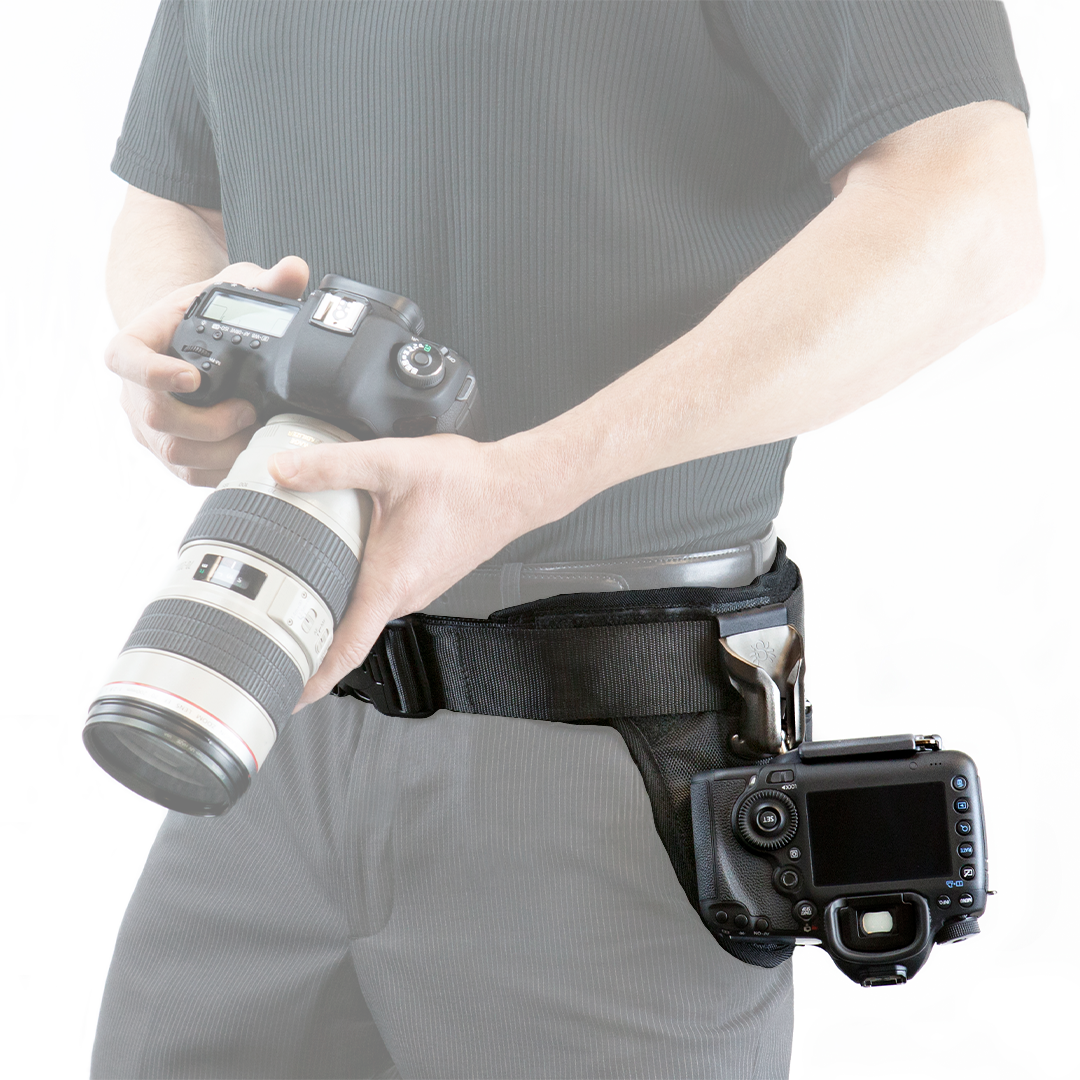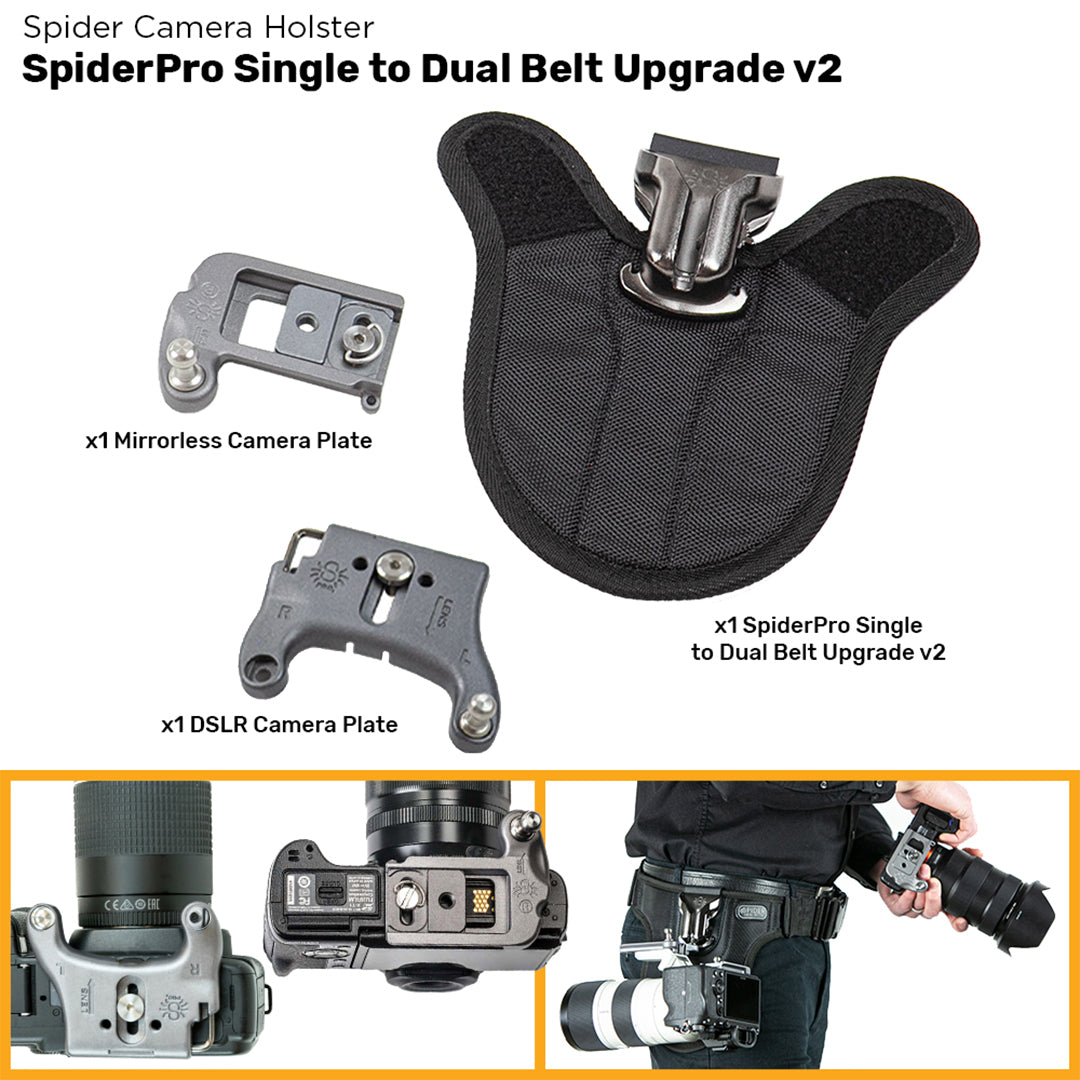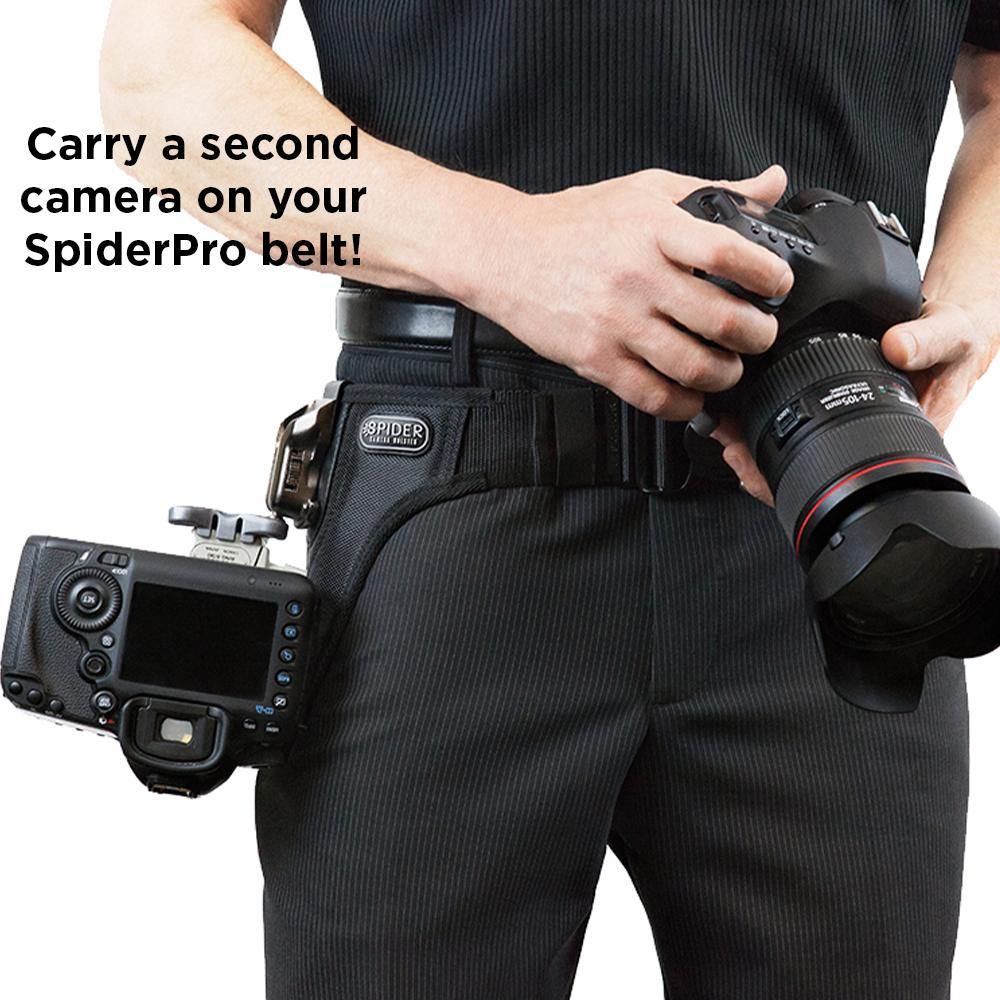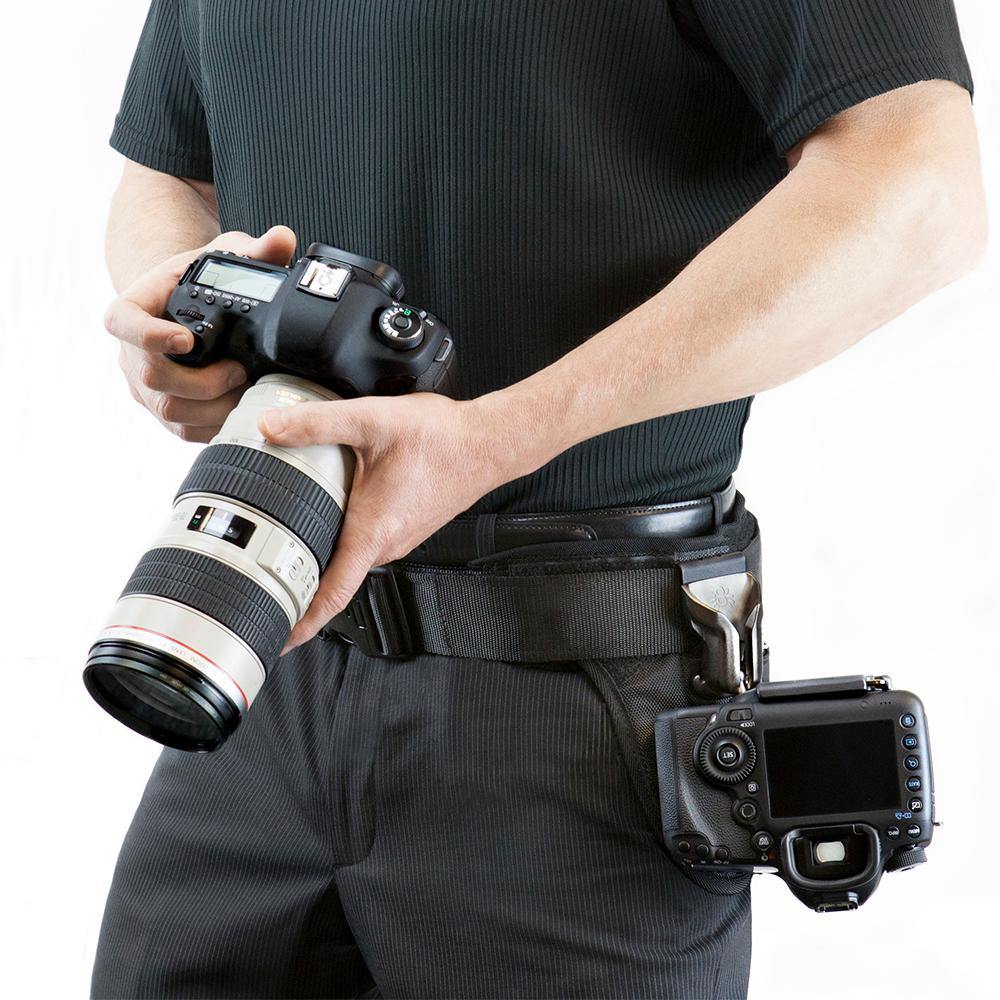 SpiderPro Single to Dual Belt Upgrade Kit v2
---
SpiderPro Single to Dual Upgrade Kit v2
SKU: 215
Description: 
The SpiderPro v2 Single to Dual Upgrade converts your SpiderPro v2 Single Camera System to a Dual Camera System. The SpiderPro v2 Single to Dual Upgrade comes with everything you need to convert your Single Camera System to a Dual System, including both a SpiderPro DSLR Camera Plate and a SpiderPro Mirrorless Camera Plate, with left side camera pad with holster.

DSLR Camera Plate
The SpiderPro DSLR Camera Plate attaches to any DSLR using your camera's 1/4"x 20 tripod mount, and features anti-slip rubber pads for stable, secure install, and an anti-twist Spider pin for added security. The SpiderPro DSLR Camera Plate has (2) built-in 1/4"x20 mounts that can be used for your tripod plates, eliminating the need to switch plates.

Mirrorless Camera Plate
Light weight and durable, the Spider Mirrorless Camera Plate is designed for mirrorless cameras. The sliding plate design accommodates most mirrorless camera bodies and does not block the battery door. It attaches to the camera's 1/4"x20 tripod mount, and features anti-slip rubber pads for stable, secure install, and an anti-twist Spider pin for added security. The Spider Mirrorless Camera Plate has built-in compatibility for Arca-Swiss style tripods, and acts as a tripod adapter. It can also be used with other style tripod adapter plates.


Second Camera Pad
This kit includes a camera pad that comes with a pre-installed SpiderPro Camera Holster v2. This Second Camera Pad is meant to be paired with our SpiderPro Single Camera Belt v2, and will allow you to holster a second camera on your other hip!


SpiderPro Camera Holster v2
The SpiderPro Camera Holster features a two-position, self-locking design for both security and quick access in any shooting situation. The holster will automatically lock when you pair it with one of our Spider camera plates. To unlock the holster, lift the lock lever upwards and remove your camera. For even faster access, you can disengage the lock by pressing the lock lever up until it clicks, it will remain unlocked until you push the lever back down into the self-locking position. Keeping it in the "unlocked" position keeps your camera secure and easily accessible for a quick draw.
Product Highlights:  
Adds a second holster to your SpiderPro v2 belt
Quick draw access to your second camera
Two position, self-locking camera holster
Camera plates for both Mirrorless and DSLR cameras
Includes:
(1) SpiderPro DSLR Camera Plate (Left Pin)
(1) SpiderPro Mirrorless Camera Plate
(1) Second Camera Pad + Camera Holster

IMPORTANT:
>The SpiderPro V2 Upgrade Kit is not compatible with older V1 system belts.
>We do not recommend moving the pre-installed Spider Pin.
We pre-install a pin into the right side with Loctite to ensure a secure hold. If a pin is required for carrying on the opposite side, we recommend purchasing an additional Spider Anti-Twist Pin and installing separately.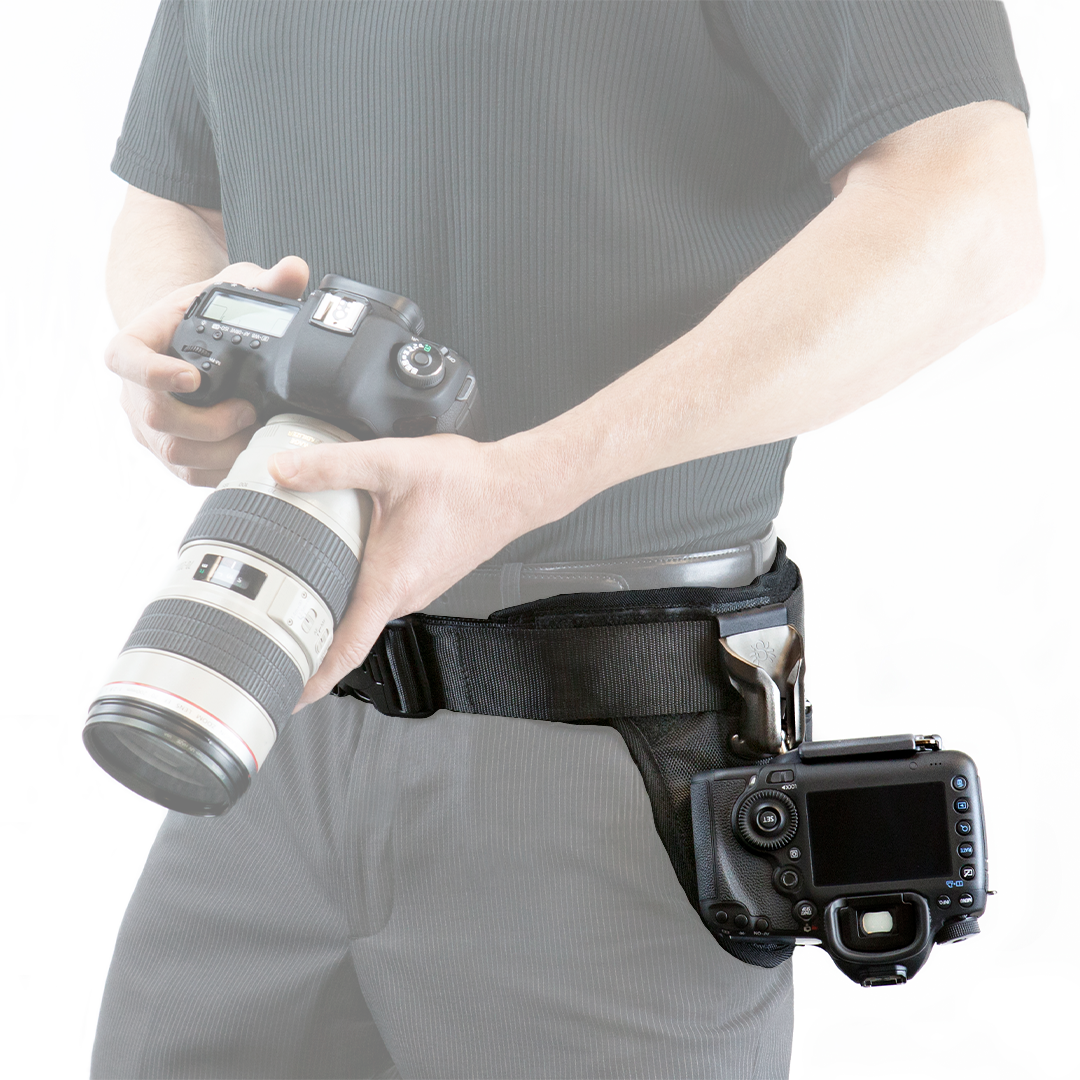 This product is rated 4.9 of 5.0 stars.
It has received 8 reviews.
Great addition
The add on kit is a great tool that makes weddings a breeze having two cameras at my side. Easy to assemble and sturdy, this is a must for any professional photographer.
The only solution to carry 2 large cameras and have your hands truly free
I have tried other systems for single and dual cameras and they were just awful. Although they were "hands free" you always needed to hold onto the cameras to stop them swinging around uncontrollably. And if you needed to pick things up, bend, turn, anything really you have to stop cameras swinging around and hitting what ever you are near.
This belt clamps the cameras firmly to your hips where, if adjusted properly, you cant even feel the weight of them cameras. Even after a while it's effortless and totally solid. Yea Spider is an expensive system but DAM it is good quality. Don't hang $8k of cameras from a cheap $50 Amazon or knock off camera holster you will be in trouble sooner or later.
Easy to set up
I use my Spider Holster every time I go out to shoot. Now I have added another slot for a second camera.
Expensive, but worth it.
I already had the single system, but was required to carry two cameras on several shoots lately. Shooting a D750 with an 18-300 lens (heavy) and a Z7 with a 14-24. Adding the holster for the second system was easy and has worked out great. Both cameras are very secure and when not shooting frees up both hands. Very comfortable. Typical shoot is 4-5 hours in the sun and this has been a breeze. Also, converting back to a single system when backpacking is also extremely easy.
Put these handy accessories on your belt, or your Spider belt!
BELT ADD-ONS
Self-locking clip for carrying a flash, light meter, battery pack & more!
SELF-LOCKING ACCESSORY CLIP KIT
View Product
Store up to 6 SD / CF cards + your phone, business cards, keys, and more!
Memory Card Pouch