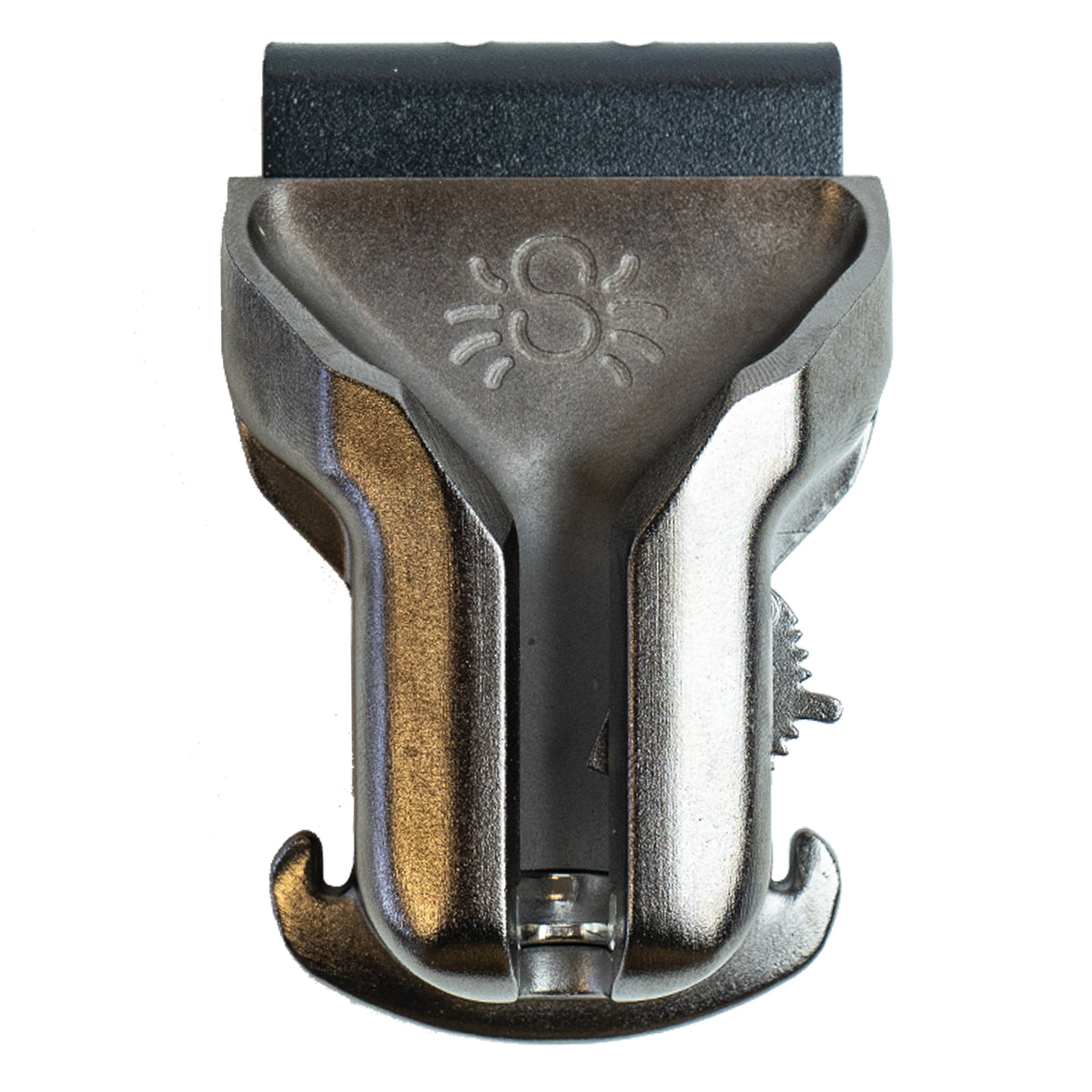 SpiderPro Holster + DSLR Camera Plate
---
Pro Camera Holster v2 
The SpiderPro Camera Holster features a two-position, self-locking design for both security and quick access in any shooting situation. The holster will automatically lock when you pair it with any of our Spider Camera Plates or Spider Pins.

To unlock the holster, lift the lock lever upwards and remove your camera. For even faster access, you can disengage the lock by pressing the lock lever up until it clicks, it will remain unlocked until you push the lever back down into the self-locking position.

Keeping it in the "unlocked" position keeps your camera secure and easily accessible for a quick draw.

The SpiderPro Holster v2 is compatible with any Spider Camera Plate or Spider Pin.


DSLR Camera Plate
The SpiderPro DSLR Camera Plate attaches to any DSLR using your camera's 1/4"x 20 tripod mount, and features anti-slip rubber pads for stable, secure install, and an anti-twist Spider pin for added security.
The DSLR Camera Plate has (2) built-in 1/4"x20 mounts that you can attach your tripod plate / quick release into. This eliminates the need to take our plate off to attach your tripod plate!


Spider Anti-Twist Camera Pin:
We do not recommend removing the Spider Pin unless there it becomes damaged and needs replaced.

The Spider Pin on this camera plate is pre-installed with Loctite to ensure a secure hold.
The Spider Pin is compatible with all Spider Camera Holsters.
📷 DESIGNED FOR DSLR: Optimized for use on DSLR camera bodies, compatible with all major brands!
✅ EASY TO USE: Clip the Spider Pro Camera Holster to your Spider Holster camera belt or any casual belt.
✅ QUICK-DRAW: Use the camera holster lock's optional camera quick release position to draw without touching the lock switch. Great for when you need quick access to your cameras!
✅ SELF LOCKING HOLSTER: The holster will self lock every time you your camera is holstered. Flick the lock lever upward while drawing out your camera to release it.
✅ HEAVY DUTY: The holster and plate are made from CNC machined aluminum, and the Spider Pin is made of Stainless Steel.
✅ CLIP ON HOLSTER: SpiderPro Holster clips directly to your Spider Camera Belt or casual belt.
✅ ANTI-SLIP RUBBER PADS: Built-in rubber pads assist with preventing rotation and loosening of the product after install.
✅ TRIPOD COMPATIBLE: Spider Camera Plates have a built-in 1/4"-20 connection for mounting any tripod or camera plate.
This product is rated 5.0 of 5.0 stars.
It has received 4 reviews.
Great camera carrier
Great way to transfer the weight of your cameras from your neck to your waist. Keeps the cameras in easy reach. Two camera can be carried without them bumping into each other.
Fantastic product and customer service.
Purchased the holster set for work as a fire investigator and it works fantastic. Highly recommend this product for other investigators.
Was missing the mount screw and sent an email to let Spider know and had the replacement in four days.
Buy this product. You won't regret it.
Very slick, comfortable camera holder
I have used Peak Design's Capture Clip for my two EOS R5's (one with battery grip, one without). In a fast paced environment, it's difficult to operate a camera and slide in and out of the clip using one hand (near impossible). What I love about the Spider is that you can store and remove your camera with just one hand and be assured it's in place once you've set it in. Removal is just as easy. What I think I love most is that the camera points behind me, which allows my on-camera flash to point downwards. I don't need to worry about hitting people with my flash awkwardly sticking out. I also love that the Arca-Swiss plate allows me to mount to my tripods quickly (even though this is a $25 extra…).
Put these handy accessories on your belt, or your Spider belt!
BELT ADD-ONS
Self-locking clip for carrying a flash, light meter, battery pack & more!
SELF-LOCKING ACCESSORY CLIP KIT
View Product
Store up to 6 SD / CF cards + your phone, business cards, keys, and more!
Memory Card Pouch