The SpiderPro Holster is a rugged yet versatile piece of equipment, allowing you to easily clip it onto any belt!

The geometry of the holster and plate prevents the camera from moving up and out of the holster accidentally.

Simply rotate camera upward for a fast release. This feature feels natural to the user, while providing an extra layer of security for your camera, even when the lock is not engaged!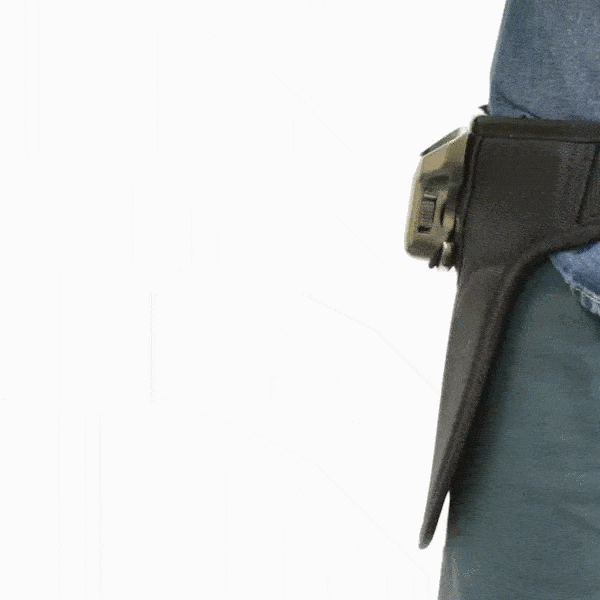 Spider Pin – Designed for optimum security, it is made out of stainless steel for corrosion resistance and strength. The design does not allow the pin to ever come loose, so your gear is always safe at your side. While we don't recommend swapping the pin that is pre-installed on the right side, you can purchase an additional Anti-Twist Pin to install on the left side if needed!

Extra Mount Holes – Located at the left and right of the mount screw, which accommodates the universal 1/4″-20 mount used by most all tripod brands. Pairs perfectly with our Acra Swiss AS2, Arca Swiss/Manfrotto AS-RC2, and Tether Adapter Plates!

Built-in Wrench – The Pro₂ Plate has a built in allen wrench with spring loaded release

Anti-Rotation Stops – The "Camera Bumps" on the front of the Pro₂ Plate hug the front of your DSLR camera and prevent it from rotating when installed!

Rubber Grips – Provides slip resistance and improves the connection to your camera body.

Tether/Strap Connection (optional) – Compatible with the Spider Web Tether and most third-party sling style straps. This allows the use of any quick-connect/carabiner style strap without interfering with the Pro₂ Plate's tripod connections.

OTHER AMAZING SPIDER PRODUCTS